Profile - Mariae Hunter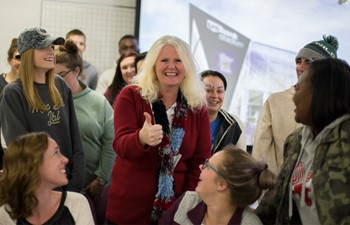 Instructor Profile
Meet Mariae Hunter
Instructor of Business
Master of Business Administration (MBA), Robert Morris University, PA; Bachelor of Science (BS), Human Resource Management, Geneva College, PA
Question and Answer
Question

Teaching Statement

Answer

Truly caring about my students. School is difficult, knowing I want to help them succeed is crucial for the learning process.

Lecturing at a minimum, doing as many in-class activities as possible, and engaging the students at their personal educational level. People learn by thinking about the material, defining it in their own minds, and by doing.

Question

What inspires you as a teacher?

Answer

My students and the desire to develop their potential. We all have the ability to be successful. I am rewarded every day in my classroom.

Question

What makes your curriculum interesting or valuable?

Answer

I was born in Europe, Scotland,and have traveled the globe. These experiences have given me a unique perspective on how to view the business world. Diversity awareness and cultural inclusion are essential people skills in the workplace, Being able to talk about them in the classroom is a positive way to learn why they are so important for professional success.

My curriculum is valuable because I relate the course material to the business world in which my students work at this time in their lives and project it into the future. People skills, managerial skills, and business communication skills, are the foundation of the workplace.

Question

What are some ways that you help your students succeed?

Answer

Personal meetings, eliminating as much stress from the course as possible, creating a safe and secure classroom environment, and finding out what is happening in their lives. Going to school is not a stand-alone endeavor. My students are working, playing sports, parenting, etc. I help them overcome the obstacles created by having too many time demands.

I also include the four different types of learning styles into my course material. In addition, I open the complete course from day one to allow the students to work within their own schedule.

Question

How do you help your students get the most out of your classes?

Answer

I ask them for their thoughts and opinions and have them actively engage in the class discussion. The knowledge students bring into the classroom is extraordinary – tapping into what they already know or have experienced in the workplace is a wonderful way for all of us to learn.
Fun Facts
Fun Fact #1

I love what I do. I feel teaching is a purpose-driven career and am happy for the opportunity to be around my students.

Fun Fact #2

I have my private pilot's license.
Meet Our Students and Alumni
Student Carousel
Carousel Navigation
Carousel Slides
Meet Amy Anderson

Amy Anderson

Business

AS Marketing & Management

"In the Business program I learned so much more than just the skills that employers are looking for. I learned the ability to exceed employers' expectations as well as your own!"

Meet Porscha Sullivan

Porscha Sullivan

Business, Management & Administration

AS Business

"I chose Anoka-Ramsey because of the opportunities and the atmosphere. Whenever in doubt, don't hesitate to ask, because they care for your success as much as you do. You learn so much and the things learned and experienced can be taken with you, and added to your portfolio."

Meet Cassandra Bauer

Cassandra Bauer

MnTC

AA & Business

"Anyone of any age wanting to go to college to pursue a degree or general education can come to Anoka-Ramsey and expect a great education and a great time.

When you apply for a scholarship, you will likely get one. I received two scholarships my freshman year: The Otto Bremer Scholarship for $1,500 and the Presidential Scholarship for $3,000."
Carousel Pagination