Write Like Us Program presents poet and essayist Ross Gay April 4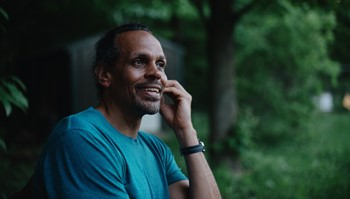 March 08, 2023
Minnesota State Write Like Us is proud to present best-selling poet and essayist Ross Gay for a reading and interview with LM Brimmer at Anoka Ramsey Community College. Gay will read from his collection of essays Inciting Joy.
Event Information
Ross Gay Reading and Conversation with LM Brimmer
Tuesday, April 4, 2023
2 pm
Performing Arts Center
Anoka-Ramsey Community College, Coon Rapids Campus

This event is free and open to the public for both in-person attendance and virtual streaming.
About Ross Gay
Ross Gay is the author of four books of poetry: Against Which; Bringing the Shovel Down; Be Holding, winner of the PEN American Literary Jean Stein Award; and Catalog of Unabashed Gratitude, winner of the 2015 National Book Critics Circle Award and the 2016 Kingsley Tufts Poetry Award. His first collection of essays, The Book of Delights, was released in 2019 and was a New York Times bestseller. His new collection of essays, Inciting Joy, was released in October 2022.
About LM Brimmer
LM Brimmer is an artist & educator living on Dakota land in Minneapolis, MN. Co-editor of the anthology Queer Voices: Poetry, Prose and Pride (MNHS Press 2019), their essays and poetry have appeared in The Alliance of Adoption Studies and Culture Journal, The Public Art Review, La Raza Comíca, Impossible Archetype, Gasher Journal, The B'K', Quarterly West, Voicemail Poems elsewhere. They attend the low-residency MFA program at Randolph College.
About Minnesota State Write Like Us
Minnesota State Write Like Us is an equity-based creative writing program at five Twin Cities metro-area community colleges: Anoka-Ramsey Community College, Century College, Minneapolis College, Normandale Community College, and North Hennepin Community College. Minnesota State Write Like Us centers and celebrates the work of BIPOC writers and writing students, fostering literary mentorship and leadership as it builds a platform for shared stories, voices, and lived experiences.
Write Like Us is funded by Thomson-Reuters and a Minnesota State Multi-Campus Collaboration grant in support of Minnesota State's Equity 2030 goals. Minnesota State is a consortium of thirty state colleges and seven universities in Minnesota. Equity 2030 aims to close the educational equity gaps across race and ethnicity, socioeconomic status, and geographic location by the end of the decade at every Minnesota State college and university. To help meet some of Minnesota State's Equity 2030 goals, Write Like Us hopes to increase BIPOC enrollment in our AFA and other creative writing programs, with their high rates of persistence, graduation, and transfer. As well, Write Like Us will center and celebrate the work of the BIPOC writers, providing BIPOC mentees.
Supplementary Information
Recent News

Anoka-Ramsey In The News

Contact Us

Marketing & Public Relations

Media Relations Contacts: Mary McCarthy