Undergraduate research students at Anoka-Ramsey Community College present in North Carolina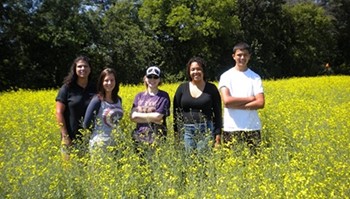 January 22, 2016
On Jan. 18, 2016, Anoka-Ramsey Community College Biology Faculty member Melanie Waite-Altringer with three of her undergraduate research students, Cassandra Bauer, Cassie Keocher and Maxwell Waite, presented their research work on beneficial pollinating insects to Bayer CropScience at their headquarters in Durham, N.C.
The presentation was based on a research project, titled "Beneficial Pollinating Insect Study on Various Flowering Fields: Wildflowers, Restored Prairie, and an Energy Crop of Canola," conducted in summer 2015 at the agricultural demonstration plot at the Anoka-Ramsey Cambridge Campus.
At the end of that project in August, Anoka-Ramsey hosted a harvest party to educate the community on biodiesel production and bring awareness of the declining beneficial pollinating insect population.
The 2015 project was funded by Bayer CropScience and its Bee Care Center and the Anoka-Ramsey Community College Strategic Initiative Fund. The project will continue in summer 2016 funded primarily by Bayer CropScience's canola division and its Bee Care Center. Other partners on this project include: USDA-ARS of Morris, Minn., EverCat Fuels, LLC of Isanti, Minn., Federated Co-ops of Isanti, Minn. and Prairie Restorations of Princeton, Minn.
Waite-Altringer's undergraduate research students will also be partnering with Will Steger and plant a wildflower field at his Wilderness Center in Ely, Minn. this summer to conduct a beneficial pollinating insect study.
For participating in the presentation Bauer, Keocher and Waite were each awarded a $500 stipend by Bayer CropScience to cover travel expenses, and college credit for their work through an independent study course.
To learn more about Bayer CropScience and its Feed-A-Bee program through the Bee Care Center, visit http://feedabee.com/ and https://beehealth.bayer.us/home
To learn more about the Beneficial Pollinating Insect Study, visit http://webs.anokaramsey.edu/biofuel/ec
Supplementary Information
Recent News

Anoka-Ramsey In The News

Contact Us

Marketing & Public Relations

Media Relations Contacts: Mary McCarthy