Two Rivers Reading Series presents author Sheila O'Connor Wednesday, April 7, 2021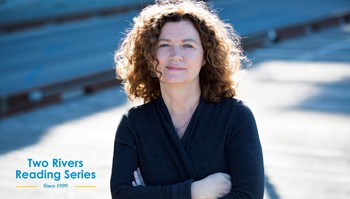 March 09, 2021
Anoka-Ramsey Community College's Two Rivers Reading Series welcomes author Sheila O'Connor for a reading and interview on Wednesday, April 7, 2021 at 2 pm via a live Zoom event. Anoka-Ramsey English Professor Paige Riehl will interview O'Connor about her award-winning novel, "Evidence of V: A Novel in Fragments, Facts, and Fictions."
"Evidence of V" is O'Connor's compelling novel inspired by research about her maternal grandmother, who was taken to the Minnesota Home for Girls in Sauk Center when she became pregnant at the age of 15. O'Connor weaves in facts, photos, and official documents throughout the fictional narrative, creating a haunting and powerful examination of the incarceration of girls for crimes of immorality in Minnesota during the first half of the twentieth century. "Evidence of V: A Novel in Fragments, Facts, and Fictions", won the Minnesota Book Award for Fiction, Foreword Editor's Choice Award, and was named one of the Best Criminal Justice Books of 2019 by the Marshall Project.
O'Connor is the author of six novels. Additional awards for her work include the Michigan Prize for Literary Fiction, Minnesota Book Award, International Reading Award, Barnes and Noble Discover Great New Writers, and Midwest Booksellers Award among others. She is a professor in the Creative Writing Program at Hamline University where she serves as fiction editor for Water~Stone Review, and she also teaches in the low-residency MFA program at Converse College. 
The event, which is supported by the college's English Department, is free and open to the public. For more information and a link to the virtual event visit the Two Rivers Reading Series website at tworiversarcc.wordpress.com.
During the 2019-2020 academic year, the Two Rivers Reading Series celebrated 20 years of bringing acclaimed, award-winning authors, poets and playwrights to Anoka-Ramsey each semester. The series events strive to make learning more comprehensive by combining classwork with real-world experiences, as students study the authors' work in their English courses.
For more information about the English Department at Anoka-Ramsey Community College, visit: AnokaRamsey.edu/academics/departments-faculty/english
Supplementary Information
Recent News

Anoka-Ramsey In The News

Contact Us

Marketing & Public Relations

Media Relations Contacts: Mary Jacobson & Fia Prpic