Spring Fling brings community together on Cambridge Campus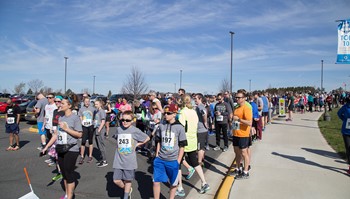 May 01, 2017
Recently, more than 250 people joined Anoka-Ramsey Community College for its second annual Community Spring Fling on the Cambridge Campus, participating in the Earth-Friendly Fair, the Health Fair and a 5K Family Run/Walk.
The first Spring Fling was held to celebrate the college's 50th anniversary. It was designed to thank residents of the Cambridge community, as well as residents from surrounding communities, for their support of the college.
At the second annual event, guests enjoyed a seasonally warm day for the festivities – a welcome break from snow flurries and freezing rain that continued through the month of April. They also had the opportunity to celebrate Anoka-Ramsey's designation as a Top 10 Community College by the Aspen Institute.
The event offered many activities to the public, in addition to the 5K. The Earth-Friendly Fair featured a presentation with live animals from the Como Park Zoo, as well as children's activities, a raffle, poetry readings and an environmental exhibit. The Health Fair, which was built around the theme of Highway to Health, gave Anoka-Ramsey Nursing students a chance to share interactive activities and information about community health risks with the public.  
Shannon Kirkeide, Dean of Academic and Community Outreach, said the 5K alone attracted 259 registrants, with 207 runners and walkers crossing the finish line. The numbers surpassed the college's attendance goals. 
She said the event drew participants from many communities, ranging from St. Paul to Sartell, and from North Branch to Princeton. Guests even travelled in from Fredricksburg, Iowa, for the festivities.  
"In conjunction with the Earth-Friendly Fair and the Highway to Health Fair, the 5K drew in our surrounding communities in huge numbers," said Kirkeide. "All together, it was a fabulous day, and it was made possible by the creative minds of many staff and faculty."
For photos, videos and information about the 5K Results, read more.
Supplementary Information
Recent News

Anoka-Ramsey In The News

Contact Us

Marketing & Public Relations

Media Relations Contacts: Mary Jacobson & Fia Prpic