Recognizing our veteran students and support services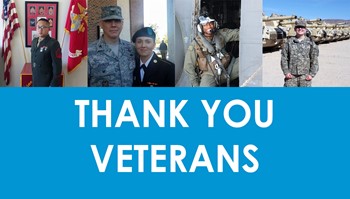 November 09, 2020
Each year, more than 400 students who served in the military or are still actively serving attend Anoka-Ramsey Community College. Serving military-connected students and their families is an extremely important part of Anoka-Ramsey's mission.
During Veterans Week, Anoka-Ramsey honors those students to say thank you and help raise awareness of resources available to help our veterans succeed.
Anoka-Ramsey Veterans, Then and Now
Steven Xiong '23, Accounting
United States Marine Corps
"Right out of the military, I immediately registered for school with Anoka-Ramsey. I went in still having the mindset of mission accomplishment. So, I treated being a college student as such, focusing on school and completing my classes as tasks.
The Veterans Services team had supported me in a welcoming way that I did not expect. There was no longer the military mentality and strictness but more of a Minnesotan hospitality that the Veterans Services team gives. They're also full of resources and experiences that has helped me in being a veteran."
Kendra Maalis '23, Nursing
National Guard
"Anoka-Ramsey has smaller class sizes, that allow you to really engage with students and teachers on a personal level. I love the faculty and have made great friends here
They [Veterans Services] are always there when you need help on figuring out how to finish your classes and graduate, they help keep you on track, they really do care about their students."
Alexandra Graves '23, Psychology
United States Army and Air Force
"I chose Anoka-Ramsey because of its flexibility with programs to help me reach my desired goal as well as its partnership with Air Force Reserve Officer Training Corps (AFROTC) Det 410 at the University of St. Thomas as I pursue my commission with the U.S. Air Force. This partnership with Anoka-Ramsey is a GREAT opportunity.
I believe my experience as a veteran has helped with all aspects of my life, especially for school. For school it has helped me to focus on accomplishing 'the mission'!
Veteran Services has guided me to helpful resources as I navigate throughout my college experience."
Phillip Cleveland '22, Engineering
United States Navy
"My experiences as a sailor taught me adaptability, and patience; as a student in the COVID era, it has helped me adapt as things change with ease. I chose Anoka-Ramsey to get a great education in the same community I grew up in.
The Veteran Service team has been with me every step of the way along my journey as a student at Anoka-Ramsey. Starting with counseling sessions before I even enrolled and even helping me to connect with other vets on campus in the Vets Center.
The Vet counselors actually care here, and the small organization actually feels like an extension of my own family."
---
Please join us in thanking our veteran students. To learn more about resources available through Veterans Services at Anoka-Ramsey, visit AnokaRamsey.edu/resources/veterans-services
If you are a veteran student at Anoka-Ramsey and would like to share your story, connect with us here.
Supplementary Information
Recent News

Anoka-Ramsey In The News

Contact Us

Marketing & Public Relations

Media Relations Contacts: Mary Jacobson & Fia Prpic