Music keeps community, connection alive on campus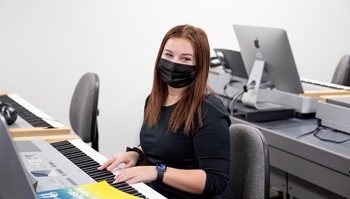 February 16, 2022
At a time when connection is difficult, music is helping keep community alive at Anoka-Ramsey Community College—on campus and online.
During the last year, campus has felt different at Anoka-Ramsey. With a continued priority of student success, health and safety, there are fewer people in the halls, labs and classrooms. But if you venture to the music building of the Coon Rapids Campus you may hear a classic rock tune blaring from speakers in a Rock and Roll History class, choir ensemble voices filling rooms and muffled tunes from private spaces where students have a quiet place for practicing.
Music at Anoka-Ramsey is providing students with the opportunities for the connection that they're craving in a time when it's easy to feel isolated with in-person courses, ensembles and performances, as well as virtual productions.
Alexis Johnson was in her junior year of high school when the COVID pandemic changed the way she finished her high school career.
When she started at Anoka-Ramsey in fall 2021, Alexis had no idea what to expect from college, but knew she wanted to be in-person as much as possible and safe.
"I'm such a face-to-face person that learning online is really difficult for me it was difficult to keep information retained and the spike in my mental health since returning for music classes has been huge," shared Alexis.
For students like Alexis, the in-person music options have been important, for others, the virtual experiences have been just as valuable.
"Two years ago, when the pandemic hit and we were doing things virtually for the choir, I thought a performance would be completely impossible," said Music Instructor and Cambridge Campus Choir Director, Randal Buikema.
Not only was it possible, but the students in the Cambridge Campus Concert Choir and music courses learned skills in technology and received more private instruction than ever before. Students in the Cambridge Virtual Concert Choir continue to meet virtually two times per week rehearsing and recording performances to be shared online.
As Buikema continues to teach virtually, he has seen other skills develop in students and the pandemic has required both students and faculty to be more open and flexible. The new connection is something he hopes to carry with him in the future.  
"I miss seeing my students in person, but I think the education that they're getting is still very valuable," said Buikema. "Students have had to share more about what's going on with them personally because of COVID. As an educator I'm going to be more open to their troubles, their obstacles."
To see a full list of events and view virtual performances visit AnokaRamsey.edu/music.
Supplementary Information
Recent News

Anoka-Ramsey In The News

Contact Us

Marketing & Public Relations

Media Relations Contacts: Mary McCarthy