Math instructor honored with prestigious award at national conference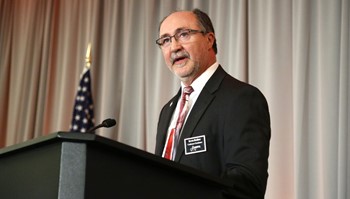 November 21, 2017
Anoka-Ramsey Community College was well-represented at the 43rd American Mathematical Association of Two-Year Colleges (AMATYC) Annual Conference in November, with one instructor receiving a prestigious award for his efforts to organize the conference.
The national mathematics conference was held Nov. 9 – 12, 2017, in San Diego, Calif., with the theme "Have a Prime Time." Instructor Keven Dockter, who teaches math at Anoka-Ramsey, attended the conference alongside many college faculty. He served as the conference coordinator, as he has for the last 10 years, working on a team to organize a four-day conference for about 1,500 attendees.
During the opening general session, Dockter received the 2017 Herb Gross Presidential Award, named for the first president of AMATYC. It is the top service award, recognizing exceptional service to the association and to the profession.
"It's very humbling to receive this award," said Dockter, who has taught college math for 35 years. "I've worked with a lot of good people, and this is really reflective of what they all have done to make the conference a success."
The conference offers keynote speakers, breakout sessions and networking events, while covering a wide range of mathematics and education topics, ranging from pedagogy to trends in mathematics. It features poster sessions and a research symposium, furthering AMATYC's vision to be the leading voice and resource for excellence in mathematics education in the first two years of college. The conference welcomes math educators from across the country and international guests, including faculty from four-year universities.
Dockter said he finds the conference work stimulating, because so much of it relates to problem-solving and working closely with other adults, not unlike what he encounters in the classroom.
"You can solve problems in many different ways," said Dockter. "Everything translates back to the classroom. It's about getting people to trust you, asking questions, and learning what their needs are so they can do the work. As I tell my students, let's find your strengths and work to those."
Dockter first got active in organizing the conference in 2007, when the conference was planned to take place in New Orleans. When Hurricane Katrina made landfall, it left the host city and the host venue devastated. Organizers turned to Dockter and his colleagues in Minneapolis for help, asking if they could quickly move the national conference to Minnesota. As the 2006 president of MinnMATYC and the local events coordinator in 2007, Dockter worked diligently to help relocate the conference.  
"In six months, we put together a conference that typically takes three years to plan," he said.
Dockter accepted the role of conference coordinator for the first time the following year. It's a volunteer position that often takes more than 30 hours per week of conference planning, on top of his teaching work at Anoka-Ramsey. Dockter is also active in the meetings of the executive board. Now that the 43rd annual conference has come to a close, he is already looking ahead six years to secure the next conference venue.
"Keven has done an absolutely amazing job as the AMATYC Conference Coordinator," said Nicole Lang, who is on the faculty at North Hennepin Community College and serves as the Central Region Vice President of AMATYC. "He's got a heart for the organization, and he's made huge improvements to the AMATYC conferences. AMATYC owes an enormous debt of gratitude to Keven Dockter. Without his tireless efforts, made possible only by the support of his colleagues, his administrators, and his family, AMATYC would not be the organization it is today."
Supplementary Information
Recent News

Anoka-Ramsey In The News

Contact Us

Marketing & Public Relations

Media Relations Contacts: Mary Jacobson & Fia Prpic