Lasting Impressions: Alumni Musicians Rock the Airwaves and the Local Music Scene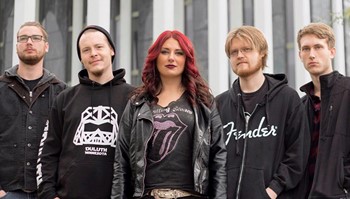 January 11, 2018
An article from the Winter 2018 Issue of the Anoka-Ramsey Community Newsletter

While most people come to community college to find education, some discover much more than that. When they attended Anoka-Ramsey Community College in 2016, Alumni Randi Rae Friedl, Erin Bekkers and Dallas McMains discovered lasting friendships, business relationships and rewarding careers in the spotlight.
As lead vocalist for the band Midwest Mayhem, Friedl has had the good fortune to pursue her passion in everyday life. She graduated with an Associate of Fine Arts degree from Anoka-Ramsey in 2016, and she is following in the footsteps of her grandmother, Betty Rydell – a singer who won the Winter Texan Times Entertainer of the Year Award and was inducted to the Minnesota Rock and Country Hall of Fame. Friedl has also had the unique privilege of performing among some of her closest community college friends.
Midwest Mayhem, a band known for their rocking sound and classic covers, began as a group of Music students who were pursuing two-year degrees at the Coon Rapids Campus. The five original members joined forces to start a rock band, and the band has been getting bigger and bigger shows ever since.
"We all met at Anoka-Ramsey," said Friedl. "We just started holding jam sessions in somebody's basement, and it kind of took off from there. We quickly went from jamming every day to playing shows almost every weekend."
Originally from Wisconsin, Bekkers said he moved to Minnesota with the goal of studying music. He also graduated with an Associate of Fine Arts degree. Though he plays percussion, he met Friedl in the college choir.
"If it wasn't for my friends and family telling me how good the Music department was at Anoka-Ramsey, I would've had no idea," said Bekkers. "A friend of mine who joined the band convinced me to come here. It turned out to be the best decision I ever made."
From Tom Petty and Queen to Guns N' Roses, the band is best known for their performances of popular cover songs. They also produced an EP in 2015, titled "Back to Reality," and performed in a release party at The Pourhouse in Minneapolis. With the help of Friedl's connections in the music world and the business acumen they obtained in their college courses, the band was picked up by an entertainment company that now books their shows. The members of Midwest Mayhem perform as professional musicians. They have performed throughout Minnesota and Wisconsin, and they have graced the stage at venues like River City Saloon, The Park-MN and The Red Carpet. They were even featured on the Twin Cities airwaves, when they were invited on the 93X Loud N' Local show.
"It was always my dream to start a band," said Friedl. "I just knew that if we kept at it and we worked hard on a game plan, we could make it."
Some of the original band members have gone on to follow other paths, but their Anoka-Ramsey pride lives on in Midwest Mayhem. When Friedl and Bekkers look back, they are amazed at how far their community college education has taken them.
"People cut down community colleges, because they don't know much about the programs they offer," said Friedl. "What they don't realize is there are so many different people you meet, and you literally become a family. We get one-on-one time with the faculty, and the staff are so helpful. They teach you so many skills you can use in the real world."
"If it wasn't for the Music program, we wouldn't be where we are today."
(Pictured above, left to right, are Alumni Dallas McMains, Erin Bekkers and Randi Rae Friedl, and new band members Vinny Olmsted and Cole Guimont. Photo by Eric Collier.)
Supplementary Information
Recent News

Anoka-Ramsey In The News

Contact Us

Marketing & Public Relations

Media Relations Contacts: Mary Jacobson & Fia Prpic