Lasting Impressions: A Conversation with Patrick McVary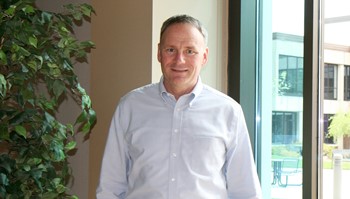 June 12, 2017
An article from the Summer 2017 Issue of the Anoka-Ramsey Community Newsletter
Before he graduated from Anoka-Ramsey Community College in 1994, Patrick McVary made a connection with a man behind the scenes. An avid theatre enthusiast, Damon Patton was working backstage to help produce the theatre productions. He also took time to mentor the students who crossed his path.
"Mentorship has been a key to my success, without a doubt," says McVary. "When
I was at Anoka-Ramsey, I met a man who became the most cherished mentor in my life."
Looking back on his community college years, McVary remembers starting out as a "wayward"
student. At 21 years old, he didn't know what he wanted to do, but he was ready for the chance to do
something great. Patton, who had built a successful career in software development, showed McVary the
business side of the profession. In the process, he taught him discipline, accountability and professionalism.
"Anoka-Ramsey is the place where I found the roots of my self-discovery," says McVary.
Those insights helped McVary design his own career. He doubled majored in entrepreneurship and marketing at the University of Saint Thomas, and he started a commercial painting business. His career path brought him back to Anoka-Ramsey as director of admissions. Through his work assisting international students, he found a passion for transactional law.
In 2007, the alumnus earned a law degree, which allowed him to combine his strengths in business,
counseling, philosophy and writing, in the service of others. Now, he not only works as principal at McVary
Law Group, but he's also employed as a consultant at UnitedHealth Group. He credits his success to
college instructors.
"The first time I realized I had some real talent was in a writing class here at Anoka-Ramsey," says McVary.
He recalls a class with Bill Gunlock, who told him he was a talented writer, then insisted that he hone his
craft. "After that, I was just on fire."
Philosophy, biology and math instructors served as mentors too.
"These instructors, they taught with passion," says McVary. "When you see someone that's living out
their passion, you want to do that too."
As a successful attorney, McVary now carries that torch forward for a new generation. He has given
back to Anoka-Ramsey, serving on the Coon Rapids Foundation Board of Directors for six years, and he
actively mentors people from different backgrounds.
"Some people come to college for a little tweaking. I came to college looking for transformation," says
McVary. "There are other students here looking for the same transformation, looking for some helping hands
to get them up the next rung of the ladder."
Supplementary Information
Recent News

Anoka-Ramsey In The News

Contact Us

Marketing & Public Relations

Media Relations Contacts: Mary Jacobson & Fia Prpic