Four new academic programs offered at Anoka-Ramsey Community College this fall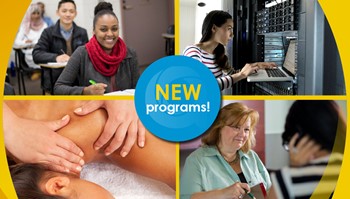 June 25, 2018
Starting in the fall of 2018, students at Anoka-Ramsey Community College will be able to pursue new certificate and degree programs at the Cambridge and Coon Rapids campuses.
Alcohol and Drug Counseling Studies Degree and Certificate
The Alcohol and Drug Counseling Studies degree and certificate programs are designed for students interested in the field of alcohol and drug counseling. The programs prepare graduates for the written test and oral examination which are required for Minnesota state licensure. The 28-credit Alcohol and Drug Counseling certificate is completed as part of the Alcohol and Drug Counseling Studies Associate of Science degree. Completion of the certificate allows the student to practice under a temporary Alcohol and Drug Counseling licensure while pursuing a bachelor's degree within five years.
For more information, visit AnokaRamsey.edu/adcounseling
Cybersecurity Degree
The Cybersecurity Associate of Science degree places emphasis on the fundamental skills and knowledge required to safeguard an organization's information and defend systems while preparing students for successful transfer to a four-year institution to continue their studies in computer and/or network security related fields.
For more information, visit AnokaRamsey.edu/cybersecurity
Diversity Studies Certificate
The Diversity Studies certificate introduces students to skills and insights that are needed when working with diverse populations. Through a broad cross-section of courses in culture, religion, majority/minority relations, geography/history, and communication studies, students will develop an understanding of the complexities within our pluralistic society. Courses prepare students for settings where communication skills require an understanding of the many groups typically included within, and extending beyond, protected class.
For more information, visit AnokaRamsey.edu/diversitystudies
Therapeutic Massage Diploma
The Therapeutic Massage diploma is designed to prepare students to practice client-centered care in a variety of settings. The program includes anatomy and physiology, theory, massage techniques, practical experience, and personal and professional development. Massage techniques include both basic and advanced massage approaches, including Swedish, sports, neuromuscular, myofascial and trigger point work.
For more information, visit AnokaRamsey.edu/therapeuticmassage
Supplementary Information
Recent News

Anoka-Ramsey In The News

Contact Us

Marketing & Public Relations

Media Relations Contacts: Mary Jacobson & Fia Prpic