Deidra Peaslee, Anoka-Ramsey Community College's Vice President of Academic and Student Affairs to Serve as Interim President of Saint Paul College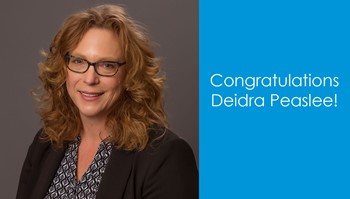 June 27, 2019
Announced last week by the Minnesota State Board of Trustees, Anoka-Ramsey Community College's Vice President of Academics and Student Affairs Deidra (Dee Dee) Peaslee has been selected to serve as interim president of Saint Paul College.
Effective July 1, Peaslee will head the college for a one-year term.
In the announcement made by Minnesota State, Devinder Malhotra, chancellor of Minnesota State stated, "Dr. Peaslee has the leadership attributes that inspire collaboration and strategic positioning. I am extremely grateful for her willingness to lend her expertise and leadership to the well-being of Saint Paul College."
Peaslee joined Anoka-Ramsey in 2002 as the dean of educational services. In 2011, she was promoted to vice president of academic and student affairs. "I have been blessed to spend 25 years in higher education, the last 17 at Anoka-Ramsey Community College," shared Peaslee. "Over that time I have worked with three presidents, hundreds of faculty and staff, and thousands of students. What this has taught me is that you can never be prepared for everything, but if you start by listening to one another and trying to find a common, collaborative solution, the institution and the students will benefit."
During her year away, Peaslee's collaborative leadership will be missed at Anoka-Ramsey.
"Dee Dee has proven herself to be a strong leader at Anoka-Ramsey and has helped bring many thoughtful, innovative programs to the college that greatly benefit our students," said Kent Hanson, president of Anoka-Ramsey. "She has been a trusted and valued colleague, and I couldn't be more proud of her."
The staff, faculty and students send Peaslee a heartfelt congratulations on this opportunity.
In light of Peaslee's new interim position, Anoka-Ramsey is in the process of appointing an interim vice president of academic and student affairs.
Supplementary Information
Recent News

Anoka-Ramsey In The News

Contact Us

Marketing & Public Relations

Media Relations Contacts: Mary Jacobson & Fia Prpic