College hosts 2nd Annual OSCARS Symposium for undergraduate research, creative works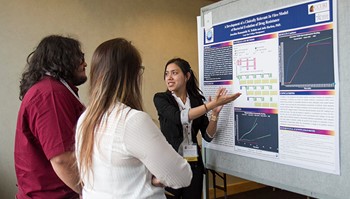 May 05, 2017
Undergraduate research lined the halls at Anoka-Ramsey Community College recently as the college presented the 2nd annual OSCARS (Outstanding Scholarship, Creative Activities and Research Symposium) on both the Cambridge and Coon Rapids Campuses.
The OSCARS Symposium for the Cambridge Campus was held on Wednesday, May 3, offering a showcase of scholarly works from Anoka-Ramsey students to the college and the community. Students presented creative works and liberal arts research projects. More than 40 undergraduate research projects were on display.  
The Coon Rapids Campus hosted its OSCARS Symposium on Friday, April 28, giving students a chance to present their research projects through poster presentations, oral presentations, and creative performances.
The event was held in conjunction with the national conference of the Community College Undergraduate Research Initiative (CCURI)—a colloquium that brought in students from 15 states, including California, New York, Oregon, Washington and Hawaii. Many Anoka-Ramsey students participated in the colloquium, including Pheylan Anderson, Skye Rugh, Tyler LaZerte, Tyler Leng and Vladimir Petrenko.  
Petrenko was proud to see his research featured in the CCURI colloquium, as well as the Anoka-Ramsey OSCARS, where he gave an oral presentation. He took first place for an undergraduate research project that has already made an impact in the classroom.  
Working with faculty mentor Paula Croonquist, he conducted a project on Integrating Undergraduate Research Experience for Nurses—An Expansion of the Wolf Project, to help students acquire relevant field and laboratory research skills on campus at Anoka-Ramsey. To complete the project, Petrenko created an experiment that involves testing wolf serum samples for antibody levels. In turn, nursing students recreated the experiment in their Anatomy and Physiology II class, to gain experience with specialized lab equipment.
"Some students have never been in a lab where they have used a pipet before," said Petrenko. "This experiment teaches nursing students how to work with lab equipment right in the classroom, so that they will have those skills when they enter the nursing field and begin working with human specimens."
Awards were given for the top undergraduate research projects at each campus, in the categories of Creative Performance or Presentation, Humanities and Social Sciences, and STEM (Science, Technology, Engineering and Mathematics) and Health Sciences.
Among the winners were students Tyler Leng, Taylor Borgman and Andrew Steward, whose project on biodiesel fuel reactions garnered first place. They had the opportunity to describe the project to many students, faculty and conference guests throughout the day.   
"It's important to give community college students the opportunity to conduct their own research," said Croonquist. "Student researchers have conducted some great experiments at the college, testing their hypotheses and working alongside the faculty to collect and analyze complicated data."
For more information about undergraduate research at Anoka-Ramsey Community College, visit AnokaRamsey.edu.
Supplementary Information
Recent News

Anoka-Ramsey In The News

Contact Us

Marketing & Public Relations

Media Relations Contacts: Mary Jacobson & Fia Prpic