College alumnus reflects on path to a career in administration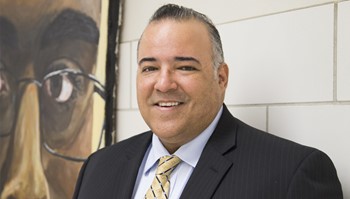 April 17, 2017
The wide yellow hallways at Roseville Area High School are filled with photography, abstract sketches, contemporary paintings, depicting the faces of students and prominent human rights leaders. Walking down the colorful halls, is cheerful Anoka-Ramsey Community College alumnus, Todd Olson.
A typical day for Olson involves greeting every student by name and genuinely asking, "How are those applications?" He is the College and Career Readiness Administrator at Roseville Area High School. Olson was not always so outgoing and assertive. His path to a career in administration at Roseville High School was unexpected.
After working for a few years after high school, Olson realized that completing college was a journey he needed to take to be successful. He choose to attend Anoka-Ramsey because of its reputation of affordability and quality of education.
According to Olson, Anoka-Ramsey and its administration not only allowed him to complete his generals but administrators motivated him to be assertive and confident enough to make a meaningful impact on Anoka-Ramsey's diversity and student life.
Olson was active in the Student Senate. He served as the chair of the state-wide diversity committee for all of the two-year colleges in Minnesota and as student representative on the initial Minnesota State Colleges and Universities merger committee. He also served as the President of Anoka-Ramsey's Alpha Delta Alpha chapter of Phi Theta Kappa in its inaugural year.
"Pat Johns (former Anoka-Ramsey president) empowered me to take a chance in stepping into these leadership roles. Because of the motivation from both Pat Johns and Luanne Kane (now Luanne Hogan), I was encouraged to try things I never thought to try before," said Olson.
Luanne Hogan, who still inspires students through her work as the Dean of Education Services at Anoka-Ramsey, remembers Olson and the impact he made on her life and Anoka-Ramsey.
"Students come to us from so many backgrounds.  Often times they have what it takes to be successful, but don't believe that they have it in them.  Todd was one of those students who I just needed to offer him a chair in my office and time to talk," said Hogan.  "I needed to guide him when he got off track, and also support him to take on new challenges.  I needed to allow him to try things, and then be here to provide guidance when he requested it. His background was very different than mine, but that difference made us grow together. "
When it was time to transfer his Associate of Arts degree into a bachelor's degree program, Olson's Sociology instructor, Marianne Wargelin-Brown encouraged him to continue his educational career at a liberal arts college.
Olson was accepted to both Hamline University and Carleton College, and received financial aid awards and scholarships. He became the second community college student to transfer to Carleton. The college accepted all of his Anoka-Ramsey credits and placed him in their rigorous academic program at junior status.
After completing a Bachelor of Arts in International Relations at Carleton College, he began his career as both an educator and an administrator. He taught in the Minneapolis, Hopkins and Anoka-Hennepin school districts, then returned to Carleton College. His efforts were focused on introducing the college experience to students through summer programs, as well as increasing the diversity of students at the nationally-ranked Top 10 private college.
"With more voices from traditionally underrepresented groups on campus, the dialogue within classrooms and around Carleton's campus became more rich and relevant," said Olson.
Olson now incorporates his passion for inspiring all students, including those from traditionally underrepresented groups, into reaching their fullest potential in his work with the Roseville Area Schools.
"When I work with students I always remind them that you don't have to give up who you are to be successful. If you're driven and resilient, you can come to a common place with those who might not understand your culture or background, so all of us can move forward," said Olson.
To learn more about the unique and successful alumni of Anoka-Ramsey Community College, visit AnokaRamsey.edu
Supplementary Information
Recent News

Anoka-Ramsey In The News

Contact Us

Marketing & Public Relations

Media Relations Contacts: Mary Jacobson & Fia Prpic