Biology students become citizen scientists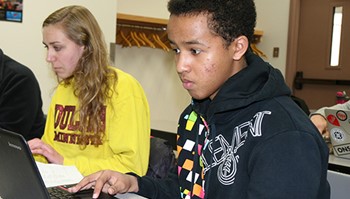 June 26, 2018
An article from the Summer 2018 Issue of the Anoka-Ramsey Community College Newsletter

Students in Instructor Kristen Genet's Biology classes became citizen scientists in the spring, when they conducted real-world research for Gorongosa National Park in Mozambique.
Among the most diverse places on Earth, this African wilderness was destroyed by decades of war, endangering native wildlife. Recent conservation efforts brought wildlife back to the park, and a global citizen science project is taking place online.
"I don't believe that science should be a passive process," said Genet. "As educators, we have to find ways to make it meaningful, active and engaging."
Genet led students in her Biology class to conduct this citizen science, by studying a wealth of online images taken by a "WildCam" and identifying the animals and their behaviors. Through data validation, the successfully identified images are then added to the research database by project staff.
"There's a reality aspect to it," said student Jared Barthelmu. "We're not just studying a hypothetical."
"It's very grounded in what goes on in the real world of research," said student Jake Dohlman. "It seems very relevant to the field of science."
Supplementary Information
Recent News

Anoka-Ramsey In The News

Contact Us

Marketing & Public Relations

Media Relations Contacts: Mary Jacobson & Fia Prpic