Artist Syed Hosain's work contests stereotypes and reflects on imagined futures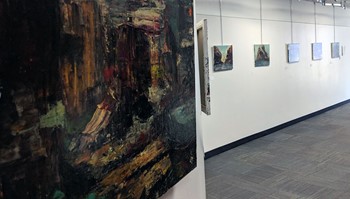 April 29, 2019
Anoka-Ramsey Community College is excited to host an exhibition of work from Muslim artist Syed Hosain.
Syed Hosain, an artist based out of south Minneapolis, bases his artwork around the Middle East geography that represents his hometown and his own Muslim identity. "I outline the ways Muslim artists, as cultural producers, are not only contesting art world boundaries in terms of new and emerging forms of identification, but also the various sites where they are being forged," said Syed Hosain. "While contesting negative stereotypes, I have also been reflecting on imaged future for Muslim identify independent of social and political oppression and appropriation."
Anoka-Ramsey Coon Rapids Campus is showcasing artist, Syed Hosain's artwork in the Great River Gallery from April 15 – May 15. In addition to the exhibition, Anoka-Ramsey will host three events that are free and open to the public to attend.
Visiting Artist Lecture
Tuesday, April 30 11 am to 12:15 pm
Anoka-Ramsey Community College Visual Arts Building, Rm VA117
Exhibition Reception
Tuesday, April 30
12:15 to 1:30 pm
Great River Gallery
Painting Demo
Wednesday, May 8
3 to 5:40 pm
Anoka-Ramsey Community College Visual Arts Building, Rm VA203
For more information about Syed Hosain and his work, visit: mnartists.org/syed-hosain
To learn more about the Art department at Anoka-Ramsey Community College, visit: Anokaramsey.edu/academics/departments-faculty/art
Supplementary Information
Recent News

Anoka-Ramsey In The News

Contact Us

Marketing & Public Relations

Media Relations Contacts: Mary Jacobson & Fia Prpic