ARCC Theatre Presents: Be More Chill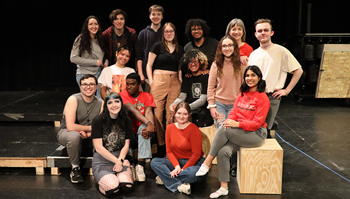 March 09, 2023
Anoka-Ramsey Community College's Theatre Department will take to the stage to present "Be More Chill," by Joe Iconis & Joe Tracz based on the novel by Ned Vizzini. The show will be directed by Lisa Weaver, theatre department faculty member at Anoka-Ramsey.
This event is open to the public.
EVENT INFORMATION:

ARCC Theatre Presents: Be More Chill
April 14, 15, 20, 21 & 22 at 7:30pm
Coon Rapids Campus Performing Arts Center (PAC)
11200 Mississippi Blvd, Coon Rapids, MN 55433
For ticket information please visit www.ARCCtheatre.com. Tickets are free and general admission seating. All members of the community are welcomed and encouraged to attend, we look forward to seeing you there!
ABOUT THE PRODUCTION:
"More than survive." That's all Jeremy Heere wants out of high school. But looking up from the bottom of the social ladder, there's little hope for the uncool Jeremy. But what if there was an easy way to change all that? Enter the SQUIP, a Japanese nanocomputer in the form of an easy-to-swallow pill. The SQUIP will implant itself in your brain and tell you what to wear, what to say, and how to act to achieve ultimate coolness. Seems like an easy choice, right? But when things with the SQUIP take an unexpected, darker turn, is Jeremy willing to lose his best friend, his crush, his classmates, and the whole world, all in an effort to be more chill? Set to a hot pop-rock score by Joe Iconis, Be More Chill is a hilarious sci-fi tale of high school and one boy's quest to fit in.
CAST LIST:
Stage Manager – Maddie Ronning
Jeremy - Andrew Green
Christine - Sophia Collova
Michael - Thomas Wilkinson
Jake - Josh Orcutt
Rich - Nathan Pahan
Chloe - Mary Charmoli
Brooke - April Mengelkoch
Jenna – Larissa Tollefson
Jeremy's Dad - Rex Wheeler
Ms Reyes - Tia MItchell
Scary Stockboy - Quin McConkey
The Squip – Alonso Alley
Ensemble: Elmert Robert, Anna Tran, Rebekah Sheih
Supplementary Information
Recent News

Anoka-Ramsey In The News

Contact Us

Marketing & Public Relations

Media Relations Contacts: Mary McCarthy