Anoka Technical College and Anoka-Ramsey Community College bring Emergency Medical Services program to Cambridge, Minn.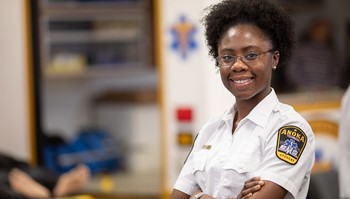 June 10, 2020
In partnership with Anoka-Ramsey Community College, Anoka Technical College is bringing the Emergency Medical Services (EMS) program to the Anoka-Ramsey Cambridge Campus for the fall 2020 semester.
Anoka Tech is aligned with Anoka-Ramsey and together the institutions serve more than 16,000 learners – the largest community and technical college entity in Minnesota. Since 1995, Anoka Technical College has been home to one of the area's most well-known Emergency Medical Service (EMS) certificate programs. Expanding the program to serve the Cambridge, Minn. community "just makes sense" said Brad Wright, paramedic and emergency medical services program director and instructor.
"There are limited offerings in the northern Anoka, Isanti, Mille Lacs, and Kanabec counties," said Wright. "This allows students and fire departments to send people to attain an EMS education closer to home."
A job in Emergency Medical Services is a great stepping stone for students interested in a career as a first responder, a field where employees are in demand. According to the most current projections from the Minnesota Department of Employment and Economic Development (DEED) between 2016 to 2026, there is a projected 13.5 percent increase in employment opportunities for Emergency Medical Technicians and Paramedics. Through the program, students can gain experience working in the field and ready themselves for further education. 
While the initial plan for the program was to meet in person two nights per week, things may look a little different this fall. Program faculty have been learning from their experiences this past spring semester in order to create the same high-quality education in a safe manner for students entering the program this fall.
"COVID-19 has posed some challenges," shares Wright. "But is has also provided us with opportunities to increase, in a thoughtful way, our online presence."
"We recorded EMT and paramedic skills for students to view. We got better at utilizing Zoom and other online meeting apps to deliver material remotely and still have that information be as if we were in a classroom with real-time discussions. We miss our students and want them in class, but we also learned and are hoping we can morph those positive things into our classes when we can meet again." 
Learn more by planning a virtual visit or visit the EMS program page. 
Supplementary Information
Recent News

Anoka-Ramsey In The News

Contact Us

Marketing & Public Relations

Media Relations Contacts: Mary Jacobson & Fia Prpic