Anoka-Ramsey welcomes Senate, House Capital Investment Committees, seeks funding for Science Building improvements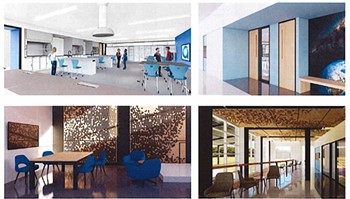 November 15, 2023
Anoka-Ramsey Community College welcomed legislators from the Senate and House Capital Investment Committees to its Coon Rapids Campus on Thursday, Nov. 9 and Tuesday, Nov. 14. Legislators were on campus to tour Anoka-Ramsey's Science Building , part of Minnesota State's 2024 Capital Request.
Members of the Senate Capital Investment Committee and representatives of the Anoka-Ramsey community
Members of the House Capital Investment Committee and representatives of the Anoka-Ramsey community
Anoka-Ramsey is seeking $14.5 million in funding to complete renovations to eight labs and four classrooms, among other spaces. The project calls for updates and replacements of key infrastructure elements, aimed at meeting key goals, among them:
Improved safety, workflow and space efficiency at lab prep areas
Increased lab size to better comply with current student space requirements
Increased equipment quantity for better student-to-equipment ratio
Increased bench work area for safer student work zones
Enhanced teaching positions and technology in classrooms and labs equates to a more productive learning environment
Increased visibility into/from labs at select areas makes the learning that occurs in the labs visible from the corridor, which benefits recruiting, students' pride in the college and aids flow in and around entrances
"The design of the new science building is grounded in evidence-based best-practice teaching in STEM, specifically inquiry-based experimentation and other student-centered lab pedagogy that is necessary for closing the equity gap for historically underserved students while improving the success of all students," says STEM Dean of Academic Affairs Rebecca Krystyniak.
A request with statewide impact
Anoka-Ramsey's request is just a piece of a much larger puzzle in the Minnesota State system during the 2024 legislative session. The system is seeking $541.4 million in funding, with investments of$427.6 million in state funding and $113.8 million in college and university support.
To learn more about the Minnesota State 2024 Capital Request and visit MinnState.edu/legislative.
Supplementary Information
Recent News

Anoka-Ramsey In The News

Contact Us

Marketing & Public Relations

Media Relations Contacts: Mary McCarthy