Anoka-Ramsey students make the All-Minnesota Academic Team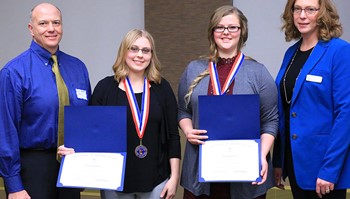 April 18, 2017
Anoka-Ramsey Community College congratulates students Cassandra Bauer and Courtney Coleman on being named to the All-Minnesota Academic Team for 2017.
In honor of their achievement, Bauer and Coleman recently received recognition at a luncheon on held at the Gorecki Center at the College of St. Benedict in St. Joseph.
During the celebration, they received the 2017 ALL-MN Academic Team Medal and Certificate.
The ALL-MN Academic Team Celebration is an annual event in which two selected individuals participate from each two-year college that completes the bachelor's scholarship application.
Each student's score in the national scholarship competition determines their ranking on the State Community College Academic Team.
Approximately 40 students received the award this year.
Nominees were selected based on biographical information, letters of recommendation, academic performance, demonstration of leadership, and campus and community service. Applicants also wrote an essay describing a specific educational experience while attending a two-year college that has transformed the student's thinking about learning or the future.

Around 150 people including students, college faculty and staff from higher education institutions from around the state and higher education dignitaries attended a recent recognition event for the All-Minnesota Academic Team.
Sponsored by the Minn-Wi-Kota Region of Phi Theta Kappa, participating colleges and the Minnesota State Colleges and Universities, the All-Minnesota Academic Team was introduced more than 20 years ago to honor two-year college students for their leadership, academic achievement, and community and college service.
Supplementary Information
Recent News

Anoka-Ramsey In The News

Contact Us

Marketing & Public Relations

Media Relations Contacts: Mary Jacobson & Fia Prpic