Anoka-Ramsey Mathematics instructor, Janine Goenner awarded 2020 MinnMATYC Distinguished Teaching Award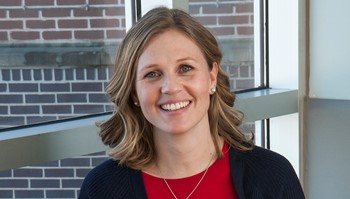 June 17, 2020
Cambridge Campus Mathematics faculty member Janine Goenner is the recipient of the 2020 Minnesota Mathematical Association of Two-Year Colleges (MinnMATYC) Distinguished Teaching Award. MinnMATYC's Distinguished Teaching Award, which is in its twenty-fifth year, recognizes the top mathematics teacher at two-year colleges in Minnesota for "outstanding contributions" to the field.
"Receiving the MinnMATYC Distinguished Teaching Award has been an honor. I am pleased that the committee found me worthy of this award. It reaffirms my approach to teaching and learning. Thank you to all those that supported this nomination. I am grateful and proud to teach at Anoka-Ramsey Community College, where excellence is the norm," said Goenner.
After being nominated by her peers, MinnMATYC's Distinguished Teaching Award selection committee felt that Janine was deserving of this award for her years of commitment, effort and service to students, and the teaching of mathematics.
"Janine's passion for teaching and learning is very obvious. She is an exceptional educator, and to work with her has been my pleasure and privilege. I find my career rewarding because of colleagues like Janine. She successfully engages students, motivates the learning environment, has strong rapport with her students, and executes a professional command," said Jenna Kowalski, Anoka-Ramsey Math instructor. "She has exceeded, and continues to exceed, my high expectations. Any organization that values exemplary educators would have great difficulty finding a better candidate."
While the annual MinnMATYC conference was unable to happen this year, the organization plans to officially present the award to Goenner at the 2021 spring conference.
Goenner was also recently elected to be MinnMATYC's President-Elect. Beginning spring 2021, she will serve as the organization's President for two years before helping transition in the next MinnMATYC president the year after.
"We look forward to her continued leadership within MinnMATYC and the profession," said Anoka-Ramsey Math instructor, Mark Omodt.
For more information about Anoka-Ramsey's Math department and its award-winning faculty members, visit AnokaRamsey.edu/math
Supplementary Information
Recent News

Anoka-Ramsey In The News

Contact Us

Marketing & Public Relations

Media Relations Contacts: Mary Jacobson & Fia Prpic