Anoka-Ramsey fall production of "The Living" available to stream Nov. 20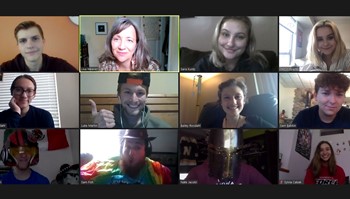 October 22, 2020
Anoka-Ramsey Community College is bringing its fall play production of "The Living" online.
The pre-recorded performance will be available for limited-time screening beginning Nov. 20, 2020 at arcctheatre.com/the-living.
"The Living" by Anthony Clarvoe is set in 1665 London as the Black Plague sweeps the city claiming more than 100,000 lives. The Living is not about death. Rather, this remarkable, riveting drama is a compelling confirmation of life.  And, although it's set more than three centuries ago, Anthony Clarvoe's two-act parable maintains stunning intimacy and relevancy to today's pandemic.  Often bitterly funny, often ineffably sad, this is the story of a few brave people who stood fast, doing what needs to be done propelled by Clarvoe's masterful handling of language and character.
"I saw this play being workshopped when I was in grad school and loved it at the time," shared director and Anoka-Ramsey faculty member, Lisa Weaver, "It is about the plague in London in 1665 and has so much relevance for our lives right now. It's about finding our best selves in the worst of times. The plot involves social distancing, fear of contagion, loss, grief and community. The play popped into my head when I thought about how to do a play in the times we are living in."
Auditions and rehearsals are all being held virtually in preparation for the final production.
"The creativity of the students and opportunity to make the best of the situation we're in have been a gift for everyone involved," said Weaver. 
The unique scenario has given the student cast an opportunity to focus on specific skills and reach a larger audience than it would in a traditional production.
"Recording our show over Zoom is exciting because I have family in Russia and down south that will be able to see me perform for the first time," said Sam Babkin, a second-year Anoka-Ramsey Associate of Fine Arts theater student.
This is Babkin's second production with Anoka-Ramsey. He plays the role of Thomas Vincent in "The Living".
"Usually we have rehearsal days that are all about where you are on the stage and where everyone goes, that's not a factor this time," said Babkin, "it's more about on-screen acting and heavily focused on facial expressions."
"I realized right away in rehearsal that vocal skills are super important when using zoom for performance - we can't do a lot of movement. The faces and voices of the actors are front and center," said Weaver.
According to Babkin, it's been harder to connect to the character and fellow cast members in this format, but the content of the play has helped.
"The content of the play has been really helpful for all of us at this time," said Babkin. "What the characters are experiencing in the play is so similar to how things are for all of us right now. How we are feeling personally connects to how the characters in the show feel." 
Cast List:
John Graunt - Luke Martin
Sarah Chandler - Sara Kuntz
Edward Harman - Nate Jacobi
Elizabeth Finch - Caitlin Sparks
John Lawrence - Hayden Tang
Lord Brounker - Sam Fish
Thomas Vincent - Sam Babkin
Jamey & others - Cody Johnson
Mary & others - Emily Rosdahl
Director:  Lisa Weaver
Stage Manager: Sylvia Cabak
Dramaturg: Bailey Rosdahl
To learn more about the Theatre program at Anoka-Ramsey and the upcoming performance of "The Living" visit AnokaRamsey.edu/theatre.
Supplementary Information
Recent News

Anoka-Ramsey In The News

Contact Us

Marketing & Public Relations

Media Relations Contacts: Mary Jacobson & Fia Prpic