Anoka-Ramsey Faculty Member Honored for Excellence in Philosophy Teaching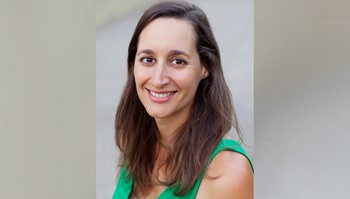 December 16, 2021
Anoka-Ramsey Community College faculty member Monica "Mo" Janzen is the recipient of the 2021 American Philosophical Association (APA) Prize for Excellence in Philosophy Teaching. The prize recognizes a philosophy teacher who has had a profound impact on the student learning of philosophy in undergraduate and/or pre-college settings.
"Dr. Janzen is an exceptional faculty member who builds authentic relationships with her students and designs her curriculum and instruction with equity and inclusion in mind," said Anoka-Ramsey Community College President Kent Hanson. "She is always asking how we can better serve our diverse student population, including students of color, first generation college students, and students returning to school after years away from the classroom."
According to the national award's selection committee, Dr. Janzen demonstrates leadership and commitment to the scholarship of teaching, publishing articles on civic engagement projects and student activism and presenting at national philosophy teaching conferences.
And, on campus, Dr. Janzen is a leader among Anoka-Ramsey faculty.
"Dr. Janzen is a long‐time member of the college's Faculty Development Committee, serving as Faculty Development Chair for the last two years, where she leveraged development opportunities that reach all faculty to center pedagogical approaches that promote equity and balance rigor, empathy, and connection," said Hanson. "She is also a frequent presenter at both faculty and staff development days, sharing her approaches and experiences with inclusive student engagement with others.
"Throughout her service to the college, I can always rely on Dr. Janzen to listen openly, approach issues collegially, and speak honestly. Her colleagues have also recognized her contributions, bestowing her with an Honored Faculty award."
The (APA) Prize for Excellence in Philosophy Teaching is awarded by the American Association of Philosophy Teachers and the Teaching Philosophy Association.
Read more about Dr. Janzen and her work and Anoka-Ramsey's Philosophy and Humanities Department.
Supplementary Information
Recent News

Anoka-Ramsey In The News

Contact Us

Marketing & Public Relations

Media Relations Contacts: Mary McCarthy