Anoka-Ramsey Community College Theatre Presents: Enchanted April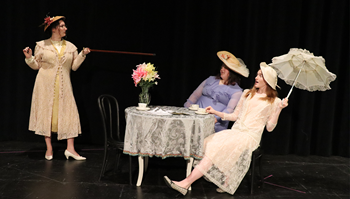 October 18, 2022
Anoka-Ramsey Community College's Theatre Department will take to the stage to present "Enchanted April," by Matthew Barber from the novel by Elizabeth Con Arnim. The show will be directed by Lisa Weaver, theatre department faculty member at Anoka-Ramsey.

This event is open to the public.

EVENT INFORMATION:

ARCC Theatre Presents: Enchanted April
October 28, 29, November 3, 4 & 5 at 7:30 p.m.
Coon Rapids Campus Performing Arts Center (PAC)
11200 Mississippi Blvd, Coon Rapids, MN 55433
For ticket information please visit www.ARCCtheatre.com. Tickets are free and general admission seating. All members of the community are welcomed and encouraged to attend, we look forward to seeing you there!  
ABOUT THE PRODUCTION:
Feeling lost in the shadows of marriage and forgotten in the rush of 1920s post-war society, two London housewives pool their savings to rent a villa in Italy for a ladies-only holiday away, reluctantly recruiting a pair of difficult upper-class women to share the cost and the experience. Together under the Mediterranean sun, the four women clash-and then begin to bond and bloom-until men once again upset the balance.
CAST LIST:
Lottie – Maren Johnson
Rose – Anna Hutton
Mellersh – Andrew Green
Frederick – Zack Zitto
Lady Caroline – Anna L. Tran
Mrs. Graves – Mary Charmoli
Mr. Wilding – Alonso Alley
Costanza – Ruth Socree
Light design – Matthew Walsh
Supplementary Information
Recent News

Anoka-Ramsey In The News

Contact Us

Marketing & Public Relations

Media Relations Contacts: Mary McCarthy