Anoka-Ramsey Community College Honors Distinguished Faculty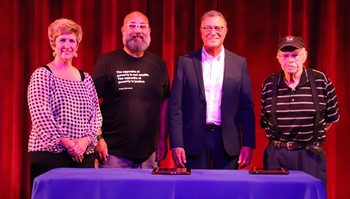 August 23, 2022
In a ceremony held Aug. 18 on the Coon Rapids campus, Anoka-Ramsey Community College celebrated its most recent Distinguished Faculty award recipients: Thomas Hanson, Max Malmquist, Tom McCarthy and Melissa Mills.
Conferral of Distinguished Faculty (emeritus) status signifies Anoka-Ramsey's recognition and appreciation of professional accomplishments and achievements, as well as extraordinary service to the college. Each recipient was nominated for this distinction by their colleagues in acknowledgement of their service to the college, the community, and the profession over the course of their careers.
About the 2021-22 honorees
Thomas Hanson started teaching at Anoka-Ramsey Community College in 1989. Throughout his career, Thomas has been a leader in department initiatives and college-wide committees, and a valued advocate for equity and anti-racist work. He served as a faculty mentor, brought guest speakers and film discussions to campus, and facilitated numerous conversations and workshops within his department, across the college, and in the greater community. Thomas also contributed expertise to his field as a board member for the Sociologists of Minnesota. One nominator said of Thomas, "Thomas has gone above and beyond his professional responsibilities to ensure that Anoka-Ramsey is moving towards our mission of excellence in teaching and learning, as well as our vision of developing articulate, critical, and creative thinkers who are responsible contributors to the community." Another noted, "I have always appreciated Tom's initiative in promoting deep discussion around racial equity and understanding at the college, even before it was as common a topic as it might be today. He has been a leader in challenging us all and also an excellent scholar in bringing his understanding of the social sciences to these conversations. His advocacy for students of color and faculty of color has been exemplary."
Max Malmquist taught at Anoka-Ramsey Community College for 31 years. Joining the faculty in 1966, he was instrumental in the development of the college's physics program. During his time at Anoka-Ramsey, Max worked diligently to advance the college's instruction and curriculum, including through mentorship of younger instructors. One nominator wrote of Max, "He was one of several role models from the science area who assisted and guided me as a young instructor. Max was very involved with the college, almost from the beginning, and has continued to be involved in his community ever since." His involvement extended beyond the classroom. Max started and coached a golf team at Anoka-Ramsey, served as an advisor to the college's science club and students on spring and summer break trips to destinations from Wyoming to the Boundary Waters Canoe Area.
Tom McCarthy began teaching at Anoka-Ramsey Community College in 1982, and served as faculty in English, Speech Communications, Communication Studies, and Theater. Over the course of his 38-year teaching career, Tom served as a college-wide leader in faculty shared governance, curriculum, strategic planning and accreditation, chairing numerous committees, including AASC, and serving as faculty president. His colleagues cited his student-centered approach to teaching and service, noting that Tom coached a nationally competitive student speech team, advised the Multicultural Club, and won numerous teaching awards from his students. Tom and his wife also own and operate a local dinner theater in the community. One nominator described Tom as "one of the finest leaders I have ever known, one of the brightest colleagues I have ever worked with, and one of the most devoted advocates for transformative change our college has ever known."
Melissa Mills began her career with Anoka-Ramsey Community College as a part-time instructor in 1984, beginning full-time service as a UFT in 1991. During her tenure at the college, Melissa served as the interim STEM dean and was a valuable member of many college committees, including Writing Across the Curriculum, Faculty Shared Governance, and semester conversion, among many others. She also served as MSCF President and was selected as Most Honored Faculty. Her contributions to teaching and learning included creating "A&P Out of the Box" for Anatomy and Physiology and service as a doula in the community and to inform her teaching. One nominator said of Melissa that "she excelled as an instructor, provided valued advice to her colleagues, and served to make the college the best it could be." A nominator also noted that Melissa "helped elevate the faculty voice in the decision-making process while still seeing the bigger picture of where the college must go."
Supplementary Information
Recent News

Anoka-Ramsey In The News

Contact Us

Marketing & Public Relations

Media Relations Contacts: Mary McCarthy