Anoka-Ramsey alumnus sets sights on medicine management career and advancing national prescribing rights movement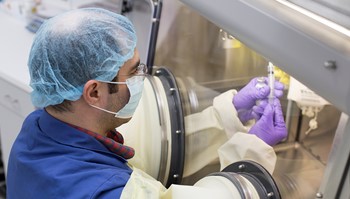 May 19, 2017
After trading in the bright lights of NYC for rural Minnesota, Tyler Leng came across an Anoka-Ramsey Community College postcard about the new pharmacy technician certification program and thus began his journey to developing a passion for medicine management.
Noticing a downturn in opportunities in the finance industry led Leng to explore the new program at Anoka-Ramsey.
"I have worked in the private equity sector for many years in Brooklyn, NYC. Because of the down swing in opportunities in the finance industry and my decision to move to a more rural setting, I wasn't sure what career I wanted to pursue. Which is why the postcard from Anoka-Ramsey came at the most opportune moment," said Leng.
Having family living in rural Illinois encouraged Leng to have a soft spot for small towns and rural communities, which attracted him to the program being based on the Cambridge Campus. After completing his pharmacy technician certification and now finishing up his position as the program's lab assistant, Leng became very cognitive of a pharmacy technician's role in medicine management.
A pharmacy technician's role is based on their place of employment, however some are patient-facing and help prevent missed doses of medicines. In a small aging community, medicine management is a priority for such technicians.
Leng's passion for medicine management has made him an activist in the current national movement to give pharmacists full prescribing rights.
Currently, pharmacists have limited prescribing abilities; most of those rights belong to physicians. In rural and/or small towns, hospitals and clinics are not always in close proximity, but there are usually pharmacies nearby. Therefore, pharmacists having full prescribing rights will benefit such patients.
"Minnesota currently doesn't allow pharmacists full prescribing rights although pharmacists take more pharmaceutical classes than any other health care professional," said Leng.
 "I'm very optimistic that other states, including Minnesota, will follow the movement because Montana, New Mexico, North Carolina, North Dakota and, most recently, California either have or are expanding prescribing rights for pharmacists," said Leng.
Leng plans to finish pharmacy school at the University of Minnesota and go on to help aging communities in rural Minnesota by pursing his passion of medicine management.
Supplementary Information
Recent News

Anoka-Ramsey In The News

Contact Us

Marketing & Public Relations

Media Relations Contacts: Mary Jacobson & Fia Prpic