An adventure in art and glass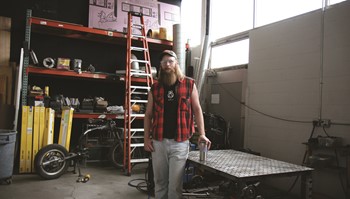 December 19, 2018
While studying philosophy and sociology, Anoka-Ramsey student Spencer Cleland stumbled onto an art form that would shape his future.
"After class, I heard loud music coming from the basement at Anoka-Ramsey. I followed the sound and poked my head in," said Cleland. "Students from a glassblowing class were working in the shop and listening to music."
That was Cleland's first introduction to a tight-knit community. The students and faculty encouraged him and he enrolled in every glassblowing class he could.
Outside the college, Cleland had settled on a job as a fabricator, handling sheet metal and servicing heavy equipment. It wasn't until a tragic accident befell a coworker on the job, that Cleland came back to glassblowing. With the help of dedicated instructors, he learned how to blow glass and build and repair the equipment. He also took a field trip to the Glass City in Toledo, Ohio, where his class toured the Glass Pavilion.
"We used the trip as inspiration to build the new glassblowing studio that Anoka-Ramsey has now," said Cleland, who helped build the hot shop from the ground up.
After Anoka-Ramsey, Cleland transferred to the University of Wisconsin–River Falls, earned a Bachelor of Fine Arts and then took a summer job at the world-class Pilchuck Glass School in Washington. There he became part of the community and learned how to run a shop.
Cleland explained that many forces are at work in the hot shop: a furnace heated to 2,000 degrees, an annealer to cool sculpted glass, the glory hole (hole in the glassblowing furnace) and a blow torch.
"Some of the pieces you want to make, you could never do alone. You need at least one other person," said Cleland. "You need to form a bond that's so strong, you don't even need to speak."
Now, Cleland is an expert in his field. He works every summer at Pilchuck, and his art has been featured at the American Swedish Institute. He is living his dream, working at Hennepin Handmade, which produces sleek glass lighting and inspired design in the North Loop.
This story is an article from the Winter 2018 Issue of the Anoka-Ramsey Community College Newsletter, visit the Alumni and Community page to read the full issue. 
Supplementary Information
Recent News

Anoka-Ramsey In The News

Contact Us

Marketing & Public Relations

Media Relations Contacts: Mary Jacobson & Fia Prpic