Alumni Connection: Abdi Hassan and Salman Elmi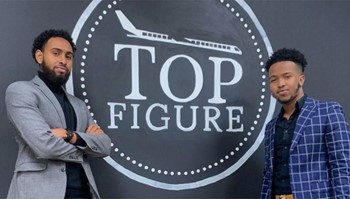 February 12, 2021
From our first graduates in the class of 1965 to today, Anoka-Ramsey Community College is proud of our alumni and their contributions to our community. Catch up with some of our alumni and share your own story at AnokaRamsey.edu/stories
Abdi Hassan '17 and Salman Elmi '17
As COVID-19 pushed retail and hospitality businesses to close their doors in early 2020, many found themselves in need of an online presence to stay afloat and connected to customers.
Enter Anoka-Ramsey alumni Abdi Hassan and Salman Elmi. The two are co-founders of Top Figure, a Minneapolis-based e-commerce marketing agency.
The pair met and joined business forces as Anoka-Ramsey students while Salman was studying computer science and Abdi studying business.
They say Anoka-Ramsey's flexibility and affordability drew them to campus.
"It was a great test environment for me. It really allowed me to be flexible and not overloaded with classes," Elmi said. "The freedom of flexibility of schedules was what allowed me to start something else, you know, and pursue other things."
Those other things included a side-hustle turned business developing websites. Since 2016, Top Figure has helped businesses create and grow a presence online.
"We work with a lot of small businesses," Hassan said. "It's sad that a lot of businesses now are going out of business because they weren't properly trained on how to have their digital platforms ready for them to able to sell. They had the physical, but then a pandemic just ended things that quick and things are never going to go back to being the same.
"2020 has shown us that if you don't have a skill, it's hard to grow," he added.
--
This story is an article from the Winter 2021 edition of the Anoka-Ramsey Community College Newsletter, visit the Alumni and Community page to read the full issue. 
Supplementary Information
Recent News

Anoka-Ramsey In The News

Contact Us

Marketing & Public Relations

Media Relations Contacts: Mary Jacobson & Fia Prpic