Alumni and Community Members Invited to Mural Painting Workshop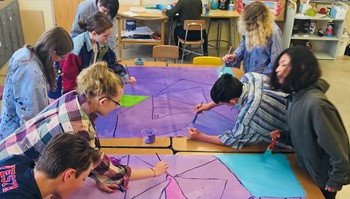 February 10, 2020
Anoka-Ramsey Community College was recently awarded an arts learning grant from the Minnesota State Arts Board to bring a community mural to the Coon Rapids Campus.
Over the past several months, members of the community, alumni, faculty, staff and students have worked alongside mural artist Greta McLain to design the mural.  Now, it's time to bring the community-led design to life and start painting.
All Anoka-Ramsey and Coon Rapids community members are welcome to attend a painting workshop the evening of March 12. No painting experience is necessary to attend, and the workshop is open to all ages.
"This project is not just for the college, it's for the whole community," said Rachel Breen, the Anoka-Ramsey Art Faculty member who is helping to lead the project. "Everyone can participate in the design process and help to paint the mural as well."
This activity is made possible by the voters of Minnesota through a grant from the Minnesota State Arts Board, thanks to a legislative appropriation from the arts and cultural heritage fund.
For more information about the mural project and the Minnesota State Arts Board grant, visit: AnokaRamsey.edu/muralproject
Alumni and Community Mural Painting Workshop
Thursday, March 12, 2020│6 to 9 pm
Anoka-Ramsey Community College, Coon Rapids Campus
Visual Arts Center Rm 103
11200 Mississippi Blvd NW
Coon Rapids, MN 55433
The event is free and open to the public.
To RSVP or get more information, contact Rachel Breen at rachel.breen@anokaramsey.edu or 763-433-1245.
Supplementary Information
Recent News

Anoka-Ramsey In The News

Contact Us

Marketing & Public Relations

Media Relations Contacts: Mary Jacobson & Fia Prpic