A worthwhile education in Art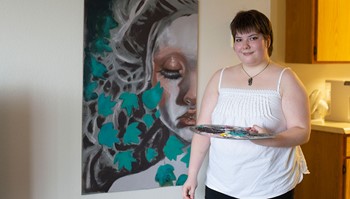 October 19, 2021
Kat Hinkley '21 wasn't even considering college when she was in high school. She was passionate about art and wasn't sure a degree in the field was worthwhile.
"Originally, I wasn't planning on going to college," shared Kat. "That changed when my high school art teachers awarded me a scholarship."
As a first-year student in fall 2019, Kat describes her time at Anoka-Ramsey as a "wild, challenging ride" that she wouldn't trade for anything.
"I started at Anoka-Ramsey with the intention of completing my AFA degree and got started on that path in fall semester 2019," said Kat. "I started not even done with my high school diploma because I was missing one math credit. So, with my full-time load of college classes I was also finishing that up through Adult Basic Education (ABE)."
Kat made the most of her time at Anoka-Ramsey and along with her full course schedule, she was also a marketing specialist with the Multicultural Center on campus, was nominated as the Art Club president, and was involved in the campus Mural Project.
"I survived and made the most of this extensive load while making a bunch of new friends along the way," said Kat. "Then spring 2020 hit and so did Covid-19."
Campus activities paused, needs for marketing and promotion for on-campus activities lessened and Kat completed her ABE courses in January. "My previously busy life was suddenly jolted by the pandemic and it was very difficult not being able to be involved and seeing people."
Kat made it through the summer months and continued work on the mural project on campus and helped complete the second installation.
At the start of fall 2020, Kat slowly transitioned back to her busy, fulfilling schedule. "I decided to work towards my associate of arts degree, along with my AFA degree," said Kat. "Me and the Art Club Advisor, Jes Shimek, revived the Art Club. We started using D2l and Zoom to continue meeting and planned a bunch of fun remote activities and workshops for the club." 
Life was busier, but still isolated.
"In the fall, I started feeling more of the effects of being isolated and my grades took a little bit of a hit. I managed to submit my art in the All for Art juried exhibition, earning the Fine Art Committee Award and the 2D People's Choice award."
After a year navigating college life during a pandemic, Kat completed both her AA and AFA degrees over the summer 2021 while living on campus at St. Cloud State University (SCSU) where she transferred to continue her education. Kat is working toward degrees in both Graphic Design and Art Education at SCSU.
Kat left Anoka-Ramsey with excitement for the future and an understanding of the value of education in the arts, an outlook she established with the support of the faculty and staff at the college. At Anoka-Ramsey Kat was seen, supported and challenged as an individual. She felt her instructors' interest and investment in the goals she set. "Each one of you [my instructors] have been amazing, passionate, open-minded, and understanding. I couldn't have asked for better teachers."
Supplementary Information
Recent News

Anoka-Ramsey In The News

Contact Us

Marketing & Public Relations

Media Relations Contacts: Mary Jacobson & Fia Prpic