Profile - Katie Aiuppa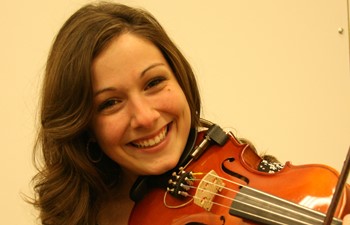 Student Profile
Meet Katie Aiuppa
Music program
Question and Answer
Question

What made you decide to attend college after high school?

Answer

I wanted to teach music in other countries, any where I can get, and I needed a degree to do that!

Question

Why did you choose Anoka-Ramsey?

Answer

Anoka-Ramsey was close to home, had a GREAT music program, and was much cheaper than a four-year school that I transferred to.

Question

Name one of the best aspects of Anoka-Ramsey.

Answer

I loved the level of teaching that came out of Anoka-Ramsey. The expectation level was perfect and, as a student, this college offered everything I needed to be successful in my courses.

Question

What would you say to a person considering attending Anoka-Ramsey?

Answer

I think it would be an incredible opportunity for you to expand your knowledge while being surrounded by the professional help you need to reach your goals.
Fun Facts
Fast Fact #1

Katie's dream job is to travel the world, teaching music fundamentals to newly-born worship teams. She also wants to be a full-time missionary somewhere that she can work with music.

Fast Fact #2

Katie hopes to step foot in every country in the world.
Meet Our Students and Alumni
Student Carousel
Carousel Navigation
Carousel Slides
Meet Cyril Dela Cruz

Cyril Dela Cruz

Arts & Communication

AFA Music

There are crazy awesome connections and great resources here at Anoka-Ramsey. You also develop character learning about the world and your major.

Meet Alexis Johnson

Alexis Johnson

Music

AFA Music

The teachers really want you to succeed and will make sure they do everything they can to help you. You aren't just a number here!

Meet Tucker Seagraves

Tucker Seagraves

Arts & Communication

AFA Music

The level at which the faculty care about each and every student on a personal level is truly amazing.
Carousel Pagination