Profile - Ben Kelly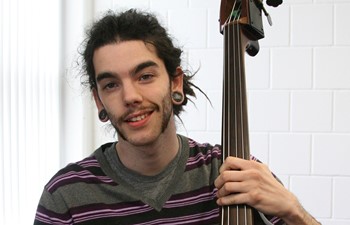 Student Profile
Meet Ben Kelly
Music program
Question and Answer
Question

Why did you choose Anoka-Ramsey?

Answer

Because I knew a lot of people who went to Anoka-Ramsey and they all turned out to be very talented and professional musicians and they all recommended this college.

Question

Name one of the best aspects of Anoka-Ramsey.

Answer

The faculty. They all really enjoy their jobs and have been some of the most supportive people up to this point in my life.
Fun Facts
Fast Fact #1

Ben dream job is to be in a rock band.

Fast Fact #2

Ben's hobbies are music, and more music.
Meet Our Students and Alumni
Student Carousel
Carousel Navigation
Carousel Slides
Meet Cyril Dela Cruz

Cyril Dela Cruz

Arts & Communication

AFA Music

There are crazy awesome connections and great resources here at Anoka-Ramsey. You also develop character learning about the world and your major.

Meet Alexis Johnson

Alexis Johnson

Music

AFA Music

The teachers really want you to succeed and will make sure they do everything they can to help you. You aren't just a number here!

Meet Tucker Seagraves

Tucker Seagraves

Arts & Communication

AFA Music

The level at which the faculty care about each and every student on a personal level is truly amazing.
Carousel Pagination