Profile - Sam Bergstrom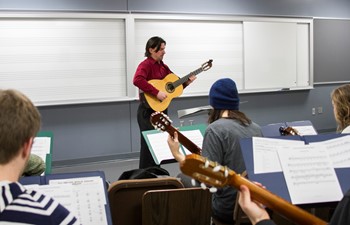 Instructor Profile
Meet Sam Bergstrom
Instructor of Music
Master of Arts (MA) in Music Education, University of St. Thomas; Bachelor of Music (BM) in Music Education, Augsburg College
Question and Answer
Question

Would you list some recent accomplishments?

Answer

Awards:

Currently serving on the Minnesota Music Educators Association (MMEA) board as the guitar and alternative ensembles chair.

Presented sessions at the MMEA clinic, including bringing the ARCC guitar ensemble to perform.

Invited to several schools in Minnesota as a clinician, guest director, and soloist at various festivals, honor bands, and concerts.

Publications:

Two articles published on jazz education on the National Association for Music Education (NAfME) website.

Question

What is your approach to teaching?

Answer

I believe in creating a positive atmosphere in the classroom and rehearsal where students feel free to express themselves creatively and be an active part of the learning process.

Question

What inspires you as a teacher?

Answer

I am inspired when students show that extra effort and excitement for the subject. It is that excitement that reminds me of when I was in their shoes, and I want to do whatever I can to help that student reach their goals.

Some of my heroes and influential figures are various guitarists, such as Wes Montgomery, Baden Powell, Jimi Hendrix and Joe Pass.

Question

How would you describe what happens during one of your most successful classes?

Answer

As much as I like to be organized and have a plan, some of my most successful (and fun) classes have been when the plans have changed as a result of interesting questions brought up by students. I don't mind if a class becomes a little derailed because of an interesting discussion, especially when it is student-led.

Question

What are some ways that you help students succeed when they need extra help?

Answer

I, first of all, try to make a connection with students so that they feel comfortable talking and expressing their struggles to me. I also strongly encourage those students to either make regular appointments to see me for help or just stop by my office when I am around. My door is always open. I feel that it is also important for students to interact and work in small groups in these situations, which we often do in my classes. Sometimes their peers can help explain concepts in a different way that resonates with that particular student. Lastly, I try to introduce our wonderful music tutors to my classes toward the beginning of each semester so that my students are aware of this option for help as well.
Fun Facts
Fun Fact #1

Before coming to Anoka-Ramsey, I taught music (band) at a high school for 10 years.

Fun Fact #2

I play the guitar and enjoy performing in various groups and in several different styles (classical, jazz and rock).

Fun Fact #3
Meet Our Students and Alumni
Student Carousel
Carousel Navigation
Carousel Slides
Meet Cyril Dela Cruz

Cyril Dela Cruz

Arts & Communication

AFA Music

There are crazy awesome connections and great resources here at Anoka-Ramsey. You also develop character learning about the world and your major.

Meet Alexis Johnson

Alexis Johnson

Music

AFA Music

The teachers really want you to succeed and will make sure they do everything they can to help you. You aren't just a number here!

Meet Tucker Seagraves

Tucker Seagraves

Arts & Communication

AFA Music

The level at which the faculty care about each and every student on a personal level is truly amazing.
Carousel Pagination