Profile - Melissa Bergstrom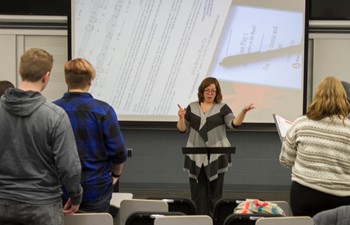 Instructor Profile
Meet Melissa Bergstrom
Instructor of Music
Master of Music (MM) in Choral Conducting, University of Minnesota; Bachelor of Music (BM) in Voice Performance, Augsburg College
Question and Answer
Question

Would you list some recent accomplishments?

Answer

I'm an active performer, teacher, conductor, composer and author with professional experience in a wide variety of musical styles, performing and teaching contexts and age groups/abilities.

Question

What is your approach to teaching?

Answer

Education is my investment in the future of music as a pastime, as a profession and as a vital part of our human experience. Whether I am in a classroom or a choir room, a concert hall or a sanctuary, the power of music and the awesome responsibility that comes in teaching music continues to take my breath away.

Question

How do you help your students get the most out of your class?

Answer

Always be relevant. Always. How will this information/history/theory affect YOU in your work and art YOU want to create? Let's find that connection and then learn the material.
Meet Our Students and Alumni
Student Carousel
Carousel Navigation
Carousel Slides
Meet Bridgette Gergen

Bridgette Gergen

Arts & Communication

AFA Music

"Anoka-Ramsey was close to home, and inexpensive. Just what I needed in a college. Plus, there were great instructors who really do love music as much as I do.

I used Advising when first enrolling at Anoka-Ramsey, and it made the enrolling process much less complicated and overwhelming."

Meet Ben Kelly

Ben Kelly

Arts & Communication

AFA Music

"I chose Anoka-Ramsey because I knew a lot of people who attended and they all turned out to be very talented and professional musicians and they all recommended Anoka-Ramsey. The faculty all really enjoy their jobs and have been some of the most supportive people in my life."

Meet Katie Aiuppa

Katie Aiuppa

Arts & Communication

AFA Music

"I chose Anoka-Ramsey because it was close to home, has a GREAT music program, and it is much cheaper than a four year school that I can just transfer to when I finish my first two years of college."
Carousel Pagination