Profile - Jason Vanselow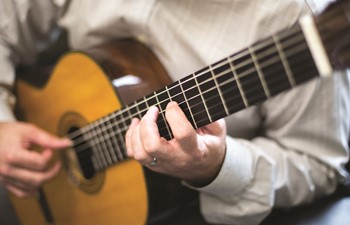 Instructor Profile
Meet Jason Vanselow
Instructor of Music
Bachelor of Arts (BA), University of St. Thomas; Master of Music (MM), Cleveland Institute of Music; Doctor of Musical Arts (DMA), University of Minnesota
Question and Answer
Question

Would you list some recent accomplishments?

Answer

Current Editor of the Guitar Education Column in "String Notes," a publication for The Minnesota String Teachers Association

Question

What is your approach to teaching?

Answer

I believe that teaching is about relating to other people as well as conveying information. In my teaching I strive to understand where students are at and make the class's content as relevant and as useful as I can.

Question

What inspires you as a teacher?

Answer

As a musician, I'm inspired by both the music that I grew up hearing and hearing students progress and master the music that they play. It's really fulfilling to listen to a student at the different points in their journey.

Question

How would you describe what happens during one of your most successful classes?

Answer

In those classes, there's a mix of questions, practical examples and demonstrations, and a feeling at the end like we, as a group, worked something out.

Question

What makes your curriculum interesting or valuable to students?

Answer

The issues that we work on in my classes are ones that students will find in their careers as musicians, as well as their lives outside of their career.

Question

What are some ways that you help students succeed when they need extra help?

Answer

I enjoy sitting down one-on-one with students and hashing out what they're struggling with. Most of the time we can figure out a good way for them to approach whatever the issue is.

Question

How do you help your students get the most out of your class?

Answer

It's important for me to keep students engaged and interacting with the class material. I work to make sure that every student makes a contribution of some sort in each class so that they are involved with the material in a meaningful way.
Fun Facts
Fun Fact #1

Me gusta hablar español, pero solo hablo un poco.

Fun Fact #2

I'm a huge fan of the music of Shostakovich, Bach and Frank Zappa.

Fun Fact # 3

My wife and I have two cats who like to hang out with mice far more than we do.
Meet Our Students and Alumni
Student Carousel
Carousel Navigation
Carousel Slides
Meet Bridgette Gergen

Bridgette Gergen

Arts & Communication

AFA Music

"Anoka-Ramsey was close to home, and inexpensive. Just what I needed in a college. Plus, there were great instructors who really do love music as much as I do.

I used Advising when first enrolling at Anoka-Ramsey, and it made the enrolling process much less complicated and overwhelming."

Meet Ben Kelly

Ben Kelly

Arts & Communication

AFA Music

"I chose Anoka-Ramsey because I knew a lot of people who attended and they all turned out to be very talented and professional musicians and they all recommended Anoka-Ramsey. The faculty all really enjoy their jobs and have been some of the most supportive people in my life."

Meet Katie Aiuppa

Katie Aiuppa

Arts & Communication

AFA Music

"I chose Anoka-Ramsey because it was close to home, has a GREAT music program, and it is much cheaper than a four year school that I can just transfer to when I finish my first two years of college."
Carousel Pagination