Profile - Emily Johnson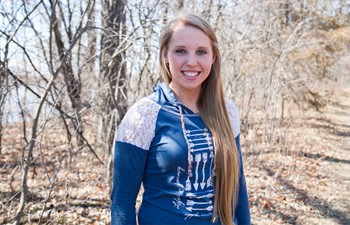 Student Profile
Meet Emily Johnson
Generals to Transfer
Question and Answer
Question

What originally brought you to Anoka-Ramsey?

Answer

I heard a lot about seniors before me going to Anoka-Ramsey and when I looked into it further, I found out how much cheaper it was than other colleges especially since I wasn't sure what major I wanted to pursue. It is a great place to start.

Question

Any thoughts about the campus or facilities?

Answer

One of my favorite things about this [the Coon Rapids] campus is the Health & Wellness Center. I am there usually four times a week and the student employees are always friendly and the facility is always kept clean as well, which is very important in this area. I love how health is such a huge focus at the college and they promote it with exercise classes and groups.

Question

Have you joined any clubs or organizations?

Answer

I am a member of the Phi Theta Kappa honor society and I really enjoying it. Everyone is really welcoming and we have a fun learning and helping others along the way.
Fun Facts
Fast Fact #1

Emily loves to hunt, fish, trap shoot, target shoot my bow, snowmobile, work on cars, go four wheeling, ride horses, workout and be with her family and friends.

Fast Fact #2

Emily's dream job would include being outdoor, maybe hunting or fishing, and doing things to better the environment and all the living things in it. She would like to be an environmental activist.
Meet Our Students and Alumni
Student Carousel
Carousel Navigation
Carousel Slides
Meet Tacita Gonzalez

Tacita Gonzalez

MnTC

Generals & Transfer

"An education is one of the best choices a person can make. For me, my education has benefited me financially, academically and socially."

Meet Cody Laberda

Cody Laberda

MnTC

Associate in Arts

"AR was a great place to start for me. They offered great art classes, which was something I was seriously considering after high school. Also, the year I started was the first year they formed a men's collegiate soccer team/program, so I tried out and made the team.

Anoka-Ramsey offers opportunity; opportunity with the best-looking community college and location in the state.

My experience in the Multicultural Club was awesome. There were so many students I met from all over the world. It was amazing. I thoroughly enjoyed the club as well as the many field trips we took including the one at the convention center, Festival of Nations."

Meet Sydney Sand

Sydney Sand

MnTC

Associate in Arts

"Anoka-Ramsey helped me to feel that I was not alone with my educational goals. The advisors ensure that you get an answer to every question. If you need any help, there are many places to find it."
Carousel Pagination