Profile - Michael Baker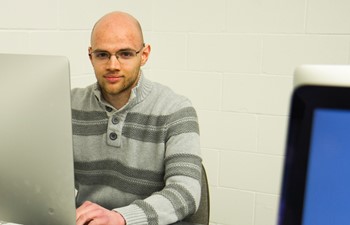 Student Profile
Meet Michael Baker
Computer Science program
Question and Answer
Question

What is one thing you want people to know about Anoka-Ramsey?

Answer

It is a really great college. Everyone here was kind and helpful. I really found myself here and figured out what I wanted in life without having to spend all the time and way more money at a four-year college taking classes I didn't enjoy. Anoka-Ramsey allowed to me choose a major and earn credits for it. I also picked up two degrees while I was here, not too bad!

Question

Anything you want people to know about the Computer Science program at Anoka-Ramsey?

Answer

Tim Wrenn is a great instructor. Computer Science is a wonderful major. If you are into computers, or maybe interested in programming, give computer science a shot. I didn't know much about it, but now that I have almost completed the program, I absolutely recommend it.

Question

Have you received any recognitions or awards?

Answer

I became a CRLA Level 2 Certified Tutor, and earned an internship at Marquette University in the fields of computer science and mathematics doing research project(s).
Fun Facts
Fast Fact #1

Michael plans to get a Bachelor of Science degree in Computer Science, work in the field for a while, and then return to college for a graduate degree

Fast Fact # 2

Before he turns 65 years old, Michael hopes to retire to a tropical paradise.
Meet Our Students and Alumni
Student Carousel
Carousel Navigation
Carousel Slides
Meet Jake Oswell

Jake Oswell

Information Systems

AA Computer Networking

"I enjoyed the relationships formed with teachers and other students at Anoka-Ramsey. Along with the cultural diversity, there was also age diversity. We were all in different places in our lives, and able to bring that experience into the classroom to help each other."

Meet Matthew Dion

Matthew Dion

Information Systems

Computer Science & Pre Engineering

"Anoka-Ramsey has so much to offer: cheaper tuition than the University Of Minnesota; computer science and engineering courses; amazing teachers and great clubs such as the Physics and Engineering Club and the Computer Science Club."

Meet Nathan Morris

Nathan Morris

Information Systems

CNET

"Without a degree from Anoka-Ramsey I would not have had a career. While in school I met individuals in the industry. With hard work in class I was noticed and offered a job in the industry. Since then it has been history. I have moved on from my first job and now run a division. I have a stable income even in this economy."
Carousel Pagination