Profile - Mack Chamberlain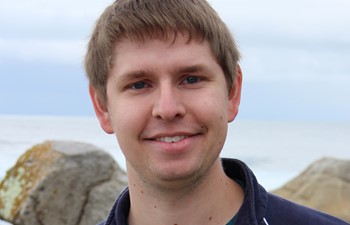 Alumni Profile
Meet Mack Chamberlain
Computer Science program
Question and Answer
Question

What is one thing you want people to know about Anoka-Ramsey?

Answer

It was probably one of the best decisions that I had made in my education because it provided a great education at really low tuition cost. It helped me achieve a bachelor's degree without having a lot of student debt built up afterward.

Question

Anything you want people to know about the Computer Science program at Anoka-Ramsey?

Answer

The Computer Science program is a wonderful program that is taught by Tim Wrenn, who has done a great job of helping students understand the core computer science concepts. That understanding had prepared me very well for when I transferred to the University of Minnesota to continue my education.

Question

Have you received any recognitions or awards?

Answer

I had worked as a Computer Science Tutor for the Tutoring center and I was the president for the Computer Science club for a couple of years. I also worked with alumni to come in and talk about what they do in their IT positions after graduation, and I had received the vice presidential scholarship award.
Fun Facts
Fast Fact #1

Mack likes to build custom PCs and cool gadgets in his spare time.

Fast Fact # 2

Mack's dream job was to work at Apple, where he works now. He now plans to advance at Apple and hopes to be a director of Software Engineering for macOS.
Meet Our Students and Alumni
Student Carousel
Carousel Navigation
Carousel Slides
Meet Jake Oswell

Jake Oswell

Information Systems

AA Computer Networking

"I enjoyed the relationships formed with teachers and other students at Anoka-Ramsey. Along with the cultural diversity, there was also age diversity. We were all in different places in our lives, and able to bring that experience into the classroom to help each other."

Meet Matthew Dion

Matthew Dion

Information Systems

Computer Science & Pre Engineering

"Anoka-Ramsey has so much to offer: cheaper tuition than the University Of Minnesota; computer science and engineering courses; amazing teachers and great clubs such as the Physics and Engineering Club and the Computer Science Club."

Meet Nathan Morris

Nathan Morris

Information Systems

CNET

"Without a degree from Anoka-Ramsey I would not have had a career. While in school I met individuals in the industry. With hard work in class I was noticed and offered a job in the industry. Since then it has been history. I have moved on from my first job and now run a division. I have a stable income even in this economy."
Carousel Pagination