Profile - Charles Larson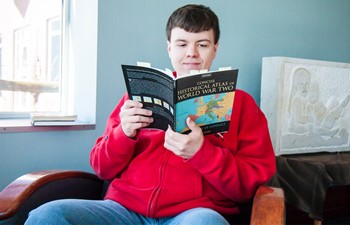 Student Profile
Meet Charles Larson
AA program
Question and Answer
Question

What has been the best aspect of Anoka-Ramsey for you?

Answer

The best aspect of Anoka-Ramsey is that it offers a clean campus with a very friendly and personable faculty and staff. The small class sizes and the fact that the college does a lot for its students, including providing scholarship opportunities, also helps to make Anoka-Ramsey a great place to continue your education.

Question

Have you received scholarships and awards at Anoka-Ramsey?

Answer

I have received, the General Foundation Scholarship, the 2015 ARCC-Cambridge Writing Competition and ARCC Cambridge Campus Student of the Year for 2015-2016. I also served in Phi Theta Kappa and was on the Cambridge Campus Dean's List.

Question

Do you have any favorite instructors?

Answer

I have had a great experience with all of my professors, so it is difficult to pick just a few. One that stands out is Dr. Crystal Pierce. I took her Astronomy class and she made it fun and exciting. She is also able to teach students in a way that makes complicated material easy to absorb and understand. Another great professor I have had is Andy Aspaas. He explains the material very clearly and concisely, and his enthusiasm for chemistry is contagious. Dawn Alexander-Payne is an outstanding history professor. She is absolutely hilarious, and makes her World War 2 class a real joy. I have taken more classes from Jeffrey Knapp than any other instructor. He explains things very well and his classes are always engaging.
Fun Facts
Fast Fact #1

Charles dream job is to be a pharmacist.

Fast Fact # 2

Charles has a Russian Blue cat names Smokey.
Meet Our Students and Alumni
Student Carousel
Carousel Navigation
Carousel Slides
Meet Yinka Jerry

Yinka Jerry

MnTC

AA Psychology Emphasis

"Anoka-Ramsey is a great place to start for young adults especially if they do not know what they want to major in. The staff are able to help students down that career path."

Meet Marina Richter

Marina Richter

Natural Sciences

AS Biology

"The professors at Anoka Ramsey are not only knowledgeable about course content but also care about their students' success."

Meet Hoang Doan

Hoang Doan

MnTC

AAS Business

"It was cheap and I wanted to attend a small college."
Carousel Pagination