Profile - Andy Aspaas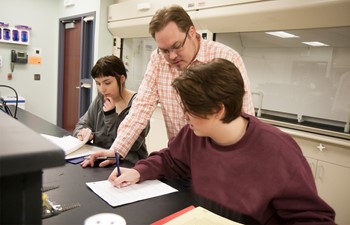 Instructor Profile
Meet Andy Aspaas
Instructor of Chemistry
Master of Science (MS) in Organic Chemistry, University of Minnesota; Bachelor of Arts (BA) in Chemistry and Math Minor, Augustana University
Question and Answer
Question

Would you list some recent accomplishments?

Answer

Awards:

2013 Educator of the Year, Minnesota State Colleges and Universities, April 2013
Collaborator, "MALDI-Based Research-Like Experiences in a 2YC/4YC Collaboration with a Renewable Fuels Industry Partner," National Science Foundation ATE Grant, 2014-2016
"Prelab Videos and Quizzes for CHEM 1020 Lab," Sabbatical, Fall 2011
"Online Postlab Quizzes for CHEM 1020 Lab," MnSCU Awards For Excellence, Spring 2008
Phi Theta Kappa Cambridge Campus Teacher of Excellence Award, May 2007

Question

What is your approach to teaching?

Answer

My view of teaching has changed drastically since I started teaching postsecondary chemistry 15 years ago. I find today that our students are not looking for an all-knowing sage that they will absorb the information from. In fact, I find that the more I talk, the less they retain. Instead, I serve as a guide, helping students navigate their way through a complex subject. My past teacher-centered lectures were all recorded and are now used as supplementary homework assignments, so students can come to class prepared to work together, discuss, and apply. I am a firm believer in the POGIL method of group learning (Process-Oriented Guided Inquiry Learning) and am in the process of transitioning all of my classes to using POGIL activities nearly every day in class.

Question

What inspires you as a teacher?

Answer

The transition toward student-centric classrooms is not an easy one, so I rely on my colleagues for ideas, best practices, and support. I'm inspired by educational innovators like Salman Khan (of khanacademy.com) and Bill Gates for helping us think differently about how higher education can work. I highly recommend the book Mindset by Carol Dweck to educators (and parents) that want to better understand what it takes for a student's, child's, or your own brain to grow and improve.

Question

How would you describe what happens during one of your most successful classes?

Answer

The student has prepared for class by watching a short video, usually a class lecture from that very subject recorded a few years earlier, and completing a short pre-lecture assignment to make sure they're up to speed. During class, I give a short introduction to the activity and the students break into groups of 3 or 4 to work together. POGIL activities start by presenting a set of data or observations, and the students answer progressively more difficult questions to make sense of the data, formulate new concepts, and apply those concepts to new situations. Throughout the class, I guide the groups if they're stuck, reiterate key points, and have students present their insights. We wrap up with a question or exercise that ties the day's learning together.

Question

What makes your curriculum interesting or valuable to students?

Answer

Chemistry is at the heart of alternative energy, medicine, material science, environmental science, nutrition, and much more. Students very often come in excited about new discoveries reported in the news.

Question

How do you think students describe your teaching methods and classes?

Answer

I try my best to be patient, friendly, approachable, and mindful of the student's needs. I have yet to see a student get heavy eyelids in one of my active learning classes (I couldn't say the same about lectures of the past). Chemistry is a difficult subject, and I have very high expectations of my students, but I try to give the support and materials they need to succeed.

Question

What are some ways that you help students succeed when they need extra help?

Answer

I am grateful for my past students that serve as peer tutors in the Academic Support Center - many struggling students have found their services useful. I have several regular visitors to office hours and try my best to make as many practice resources available online as possible.
Fun Facts
Fun Fact #1

I played jazz trumpet all through college, and I am looking for an excuse to get back into it. Now that my 8 year old son is taking up the ukulele, we may have to form a combo!

Fun Fact #2

I am a movie buff and home theater enthusiast. My favorite movies include Ghostbusters (the ORIGINAL one), Back to the Future, The Empire Strikes Back, the Indiana Jones Trilogy, and Dr. Strangelove. I am anxiously awaiting the return of Westworld, Fargo, and Sherlock.

Fun Fact #3

My family and I hike and swim nearly every weekend when it's nice out, and we visit the North Shore and Brainerd Lakes area several times a year.
Meet Our Students and Alumni
Student Carousel
Carousel Navigation
Carousel Slides
Meet Leetha Phommachack

Leetha Phommachack

Nursing RN

AS Nursing

"Anoka-Ramsey offers many tools for students to become successful in their journey of higher education. I really appreciated the amount of support there is for non-traditional students such as myself."

Meet Andrew Sandahl

Andrew Sandahl

MnTC, Engineering

AS Engineering

"I chose Anoka-Ramsey to fulfill generals and core electives for an electrical engineering degree, to keep overall tuition inexpensive, and to stay close to home. The pre-engineering degree gives beginner engineering students the fundamentals that they need in mathematics, physics, engineering and chemistry. These are crucial to the development they need to build upon when transferring to a university to finish their bachelor's degree."

Meet LaShaunda Newsom

LaShaunda Newsom

Natural Sciences

Biological Science

"Anoka-Ramsey has so many resources and the instructors are very helpful. The majority of my instructors were great but the one that sticks out the most is Jennifer Braido. She's awesome and helpful."
Carousel Pagination