Financial Aid FAQ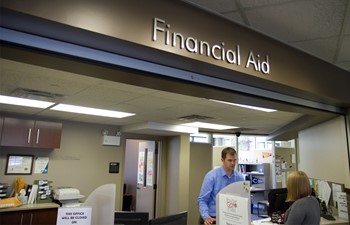 Question and Answer
Question

When should I apply for financial aid?

Answer

Each year the new FAFSA application is available starting October 1st. Submit your application as soon as possible after that to improve your chances of receiving certain need based aid, and to hold your classes.

Question

What is the deadline for financial aid?

Answer

The Financial Aid Office must receive your processed FAFSA by each semester's tuition deadline to hold your classes. Otherwise, students must pay their tuition in full or set up a payment plan by tuition due date.

Question

What do I need for the FAFSA form?

Answer

Aside from basic identification information (your driver's license number, Social Security number, address, etc.), you will need to provide information related to your own income, earnings, assets and your academic goals (the degree or certificate you seek). We recommend having a copy of your taxes available when you complete the application.

If you are a dependent or married, you will also need to provide earnings and income information for your parents or your spouse. You can preview a FAFSA PDF here.

Question

What is my FAFSA code?

Answer

The Anoka-Ramsey FAFSA code is 002332.

Question

Have you received my FAFSA?

Answer

Once you have completed the FAFSA, the Financial Aid Office will receive your application in 3-5 business days. We will reach out to you via your student e-mail account to request additional documents or to notify you of your financial aid eligibility.

Question

When is my disbursement check coming?

Answer

Financial aid will disburse to ARCC beginning the third Tuesday of the term. Check your status on your student email account, using your STAR ID and password. Students should monitor their account balances throughout the school year.

Question

When will I receive my excess funds/overage?

Answer

If the amount of your financial aid award exceeds institutional charges, the credit balance overage will be sent to you via direct deposit or mail on the third Friday of the term or weekly thereafter.

Question

Can I charge books against my financial aid?

Answer

If you qualify for financial aid, and the amount you receive exceeds your tuition and fees, you may Charge Your Books to your financial aid account. Book charges are allowed one week prior to the semester and the first week of the term (excluding holidays). You must have an award letter with financial aid accepted that exceeds your tuition and fees.

Question

How do I get my Tax Return Transcript?

Answer

Visit: IRS.gov/Individuals/Get-Transcript. If you have a different address than what appears on your federal tax return you will need to use this form: Form 4506-T to request a Tax Return Transcript. For more help please visit the Financial Aid Office
Meet Our Students and Alumni
Student Carousel
Carousel Navigation
Carousel Slides
Meet Michael Baker

Michael Baker

Information Systems

AA & AS in Computer Science

"Classes here are great. Teachers truly care about students and smaller class sizes allow for more interaction with students. It's so far from the lecture hall everyone envisions when they think of college. I feel like I actually learn and better myself while attending Anoka-Ramsey."

Meet Amy Anderson

Amy Anderson

Business

Marketing & Management

"In the Business program I learned so much more than just the skills that employers are looking for. I learned the ability to exceed employers' expectations as well as your own!"

Meet Derek Gella

Derek Gella

MnTC

Generals & Transfer

"The instructors and curriculum are top notch and credits transfer nicely to any four-year school."
Carousel Pagination