Financial Aid FAQ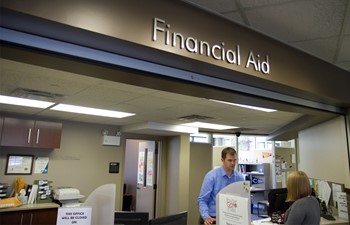 Question and Answer
Question

When should I apply for financial aid?

Answer

Each year the new FAFSA application is available starting January 1. Submit your application as soon as possible after that to improve your chances of receiving financial aid, and to hold your classes.

Financial aid documents are processed on a first-come first-served basis, so if the Financial Aid Office

requests additional information for your file, it's important that you provide it as soon as possible. Check your student email account frequently.

Question

What is the deadline for financial aid?

Answer

The Financial Aid Office must receive your completed financial aid application by each semester's tuition deadline to hold your classes. Otherwise, students must pay their tuition in full or set up a payment plan by tuition due date.

Question

What do I need for the FAFSA form?

Answer

Aside from basic identification information (your driver's license number, Social Security number, address, etc.), you will need to provide information related to your own income, earnings, property value and your academic goals (the degree or certificate you seek).

If you are a dependent or married, you will also need to provide earnings and income information for your parents or your spouse. You can preview a FAFSA PDF here.

Question

What is my FAFSA code?

Answer

The Anoka-Ramsey FAFSA code is 002332.

Question

Have you received my FAFSA?

Answer

Allow several weeks to receive notification. You will receive a postcard and notification to your student email address when we have your FAFSA results.

Question

When is my disbursement check coming?

Answer

Financial aid will disburse to student accounts beginning the third Wednesday of the term. Check your status on your student email account, using your Student ID and PIN. Students should monitor their account balances throughout the school year.

Question

When will I receive my excess funds/overage?

Answer

If the amount of your financial aid award exceeds institutional charges, the credit balance overage will be applied to your financial aid account via direct deposit or mail within 14 days. Often, the credit balance overage is applied the third Friday of the term and each Friday thereafter.

Question

Can I charge books against my financial aid?

Answer

If you qualify for financial aid, and the amount you receive exceeds your tuition and fees, you may Charge Your Books to your financial aid account. Book charges are allowed one week prior to the semester and the first week of the term (excluding holidays). You must have a FAFSA on file in order to charge your books.

Question

How do I get my Tax Return Transcript?
Meet Our Students and Alumni
Student Carousel
Carousel Navigation
Carousel Slides
Meet Amanda Romeo

Amanda Romeo

MnTC

AA & Business

"Business is one of the best programs Anoka-Ramsey Community College has to offer, and it is also possible to receive your bachelor's degree on campus through its partnership with universities in the area.

TRIO SSS jump started my academic career and ensured I got the most out of my time at Anoka-Ramsey. As a first-generation, non-traditional student, I was unsure of the logistics to obtaining a degree and frightened of the uncertainty. My TRIO SSS Advisor helped answer all of my questions, ensured I was taking the correct courses for my degree, made me aware of opportunities available on- and off-campus and aided in building my confidence. I will forever be grateful to the dedication my TRIO SSS Advisor has given me and the growth I have gained in the process."

Meet Jeanne Wigant

Jeanne Wigant

Natural Sciences

Biological Science

"Scholarships relieve some of the financial burden associated with getting a college degree, and at Anoka-Ramsey they can cover nearly a student's entire tuition. Scholarships also reinforce a student's belief in themselves, knowing that others identify [him/her] as a promising student, worthy of receiving the scholarship."

Meet Aaron Becker

Aaron Becker

Arts & Communication

AFA Art

"I love the Art program at Anoka-Ramsey, and they have the best staff. The faculty make you feel good about the path you're taking, and the college has scholarship programs to help out financially."
Carousel Pagination