Cost & Aid

Take advantage of the lowest college tuition in Minnesota
How Much Will College Cost?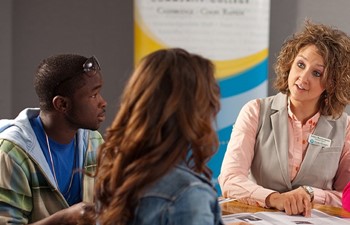 Over half of Anoka-Ramsey students receive grants or scholarships. You could be one of them!

Learn more about the many ways to cover the costs of tuition, fees and books, including:
*Counting on financial aid to help cover tuition costs? Apply early! You can submit your FAFSA form even before you've been accepted for admission – and that will improve your chances of getting aid on time to register for classes. Contact us if you need help completing your FAFSA.
Financial Aid: 763-433-1500
Business Office: 763-433-1600
Scholarship Office: 763-433-1130
Meet Our Students and Alumni
Student Carousel
Carousel Navigation
Carousel Slides
Meet Michael Baker

Michael Baker

Information Systems

AA & AS in Computer Science

"Classes here are great. Teachers truly care about students and smaller class sizes allow for more interaction with students. It's so far from the lecture hall everyone envisions when they think of college. I feel like I actually learn and better myself while attending Anoka-Ramsey."

Meet Amy Anderson

Amy Anderson

Business

Marketing & Management

"In the Business program I learned so much more than just the skills that employers are looking for. I learned the ability to exceed employers' expectations as well as your own!"

Meet Derek Gella

Derek Gella

MnTC

Generals & Transfer

"The instructors and curriculum are top notch and credits transfer nicely to any four-year school."
Carousel Pagination