Cost & Aid

Take advantage of the lowest college tuition in Minnesota
Last Day to Add/Drop Classes

Financial Aid Disbursement
How Much Will College Cost?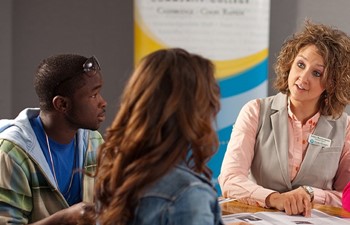 Over half of Anoka-Ramsey students receive grants or scholarships. You could be one of them!

Learn more about the many ways to cover the costs of tuition, fees and books, including:
*Counting on financial aid to help cover tuition costs? Apply early! You can submit your FAFSA form even before you've been accepted for admission – and that will improve your chances of getting aid on time to register for classes. Contact us if you need help completing your FAFSA.
Financial Aid: 763-433-1500
Business Office: 763-433-1600
Scholarship Office: 763-433-1130
Meet Our Students and Alumni
Student Carousel
Carousel Navigation
Carousel Slides
Meet Courtney VonVett

Courtney VonVett

Arts & Communication

AFA in Theatre

"The sense of community among the students and faculty. If one of my instructors is having a rough day or has to cancel a class due to an emergency, I know there are a number of students who will go out of their way to email that teacher and make sure things are okay. The instructors will do the exact same thing for the students."

Meet Thanh Ngo

Thanh Ngo

MnTC

Associate in Arts

"My education will allow me to live a better life, and to set an example for my children."

Meet Pablo Samaniego

Pablo Samaniego

MnTC

Associate in Arts

"I chose Anoka-Ramsey for three reasons: Affordability, transferability and location. It is the most affordable tuition in the state, and one of the lowest in the country. I want to transfer to the University of Minnesota's Bio-chemical program, and my courses will transfer. And it is located on the Mississippi.

The best things about Anoka-Ramsey, though, are the great resources-the Academic Support Center, the Advising Center, the Counseling Center have nice staff committed to your success."
Carousel Pagination