Profile - Mackenzie Krzmarzick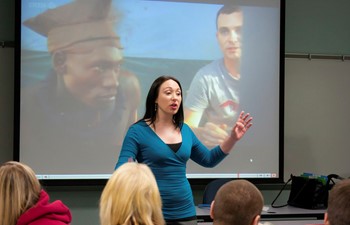 Instructor Profile
Meet Mackenzie Krzmarzick
Instructor of Communication Studies
Master of Arts (MA) in Communication Education, University of Northern Iowa
Question and Answer
Question

Would you list some recent accomplishments?

Answer

Golden Chalk Award, Spring 2014

Question

What is your approach to teaching?

Answer

Reading and listening aren't enough when it comes to learning. A true education must include doing and teaching others. My classes incorporate direct, real-life application of learning to lead to skills, understand and a little fun.

Question

What inspires you as a teacher?

Answer

I had a handful of excellent, inspiring professors from graduate school whose teaching styles I try to emulate, but often times, I am inspired by the less-than-excellent teachers I have had in my life. I try to pinpoint the things that didn't work well about their classes as a way of designing my own teaching style to better suit the needs of my students.

Question

How would you describe what happens during one of your most successful classes?

Answer

Because I teach communication studies, I often view success as students building their communication skills, but this can mean many things, including becoming better speakers and listeners, gaining an understanding of themselves and others and strengthening relationships. One of my biggest successes throughout the semester is building a classroom environment in which students feel comfortable, confident and build friendships in the process.

Question

What makes your curriculum interesting or valuable to students?

Answer

Communication is the basis of our lives, goals, activities and relationships. Whether I am teaching introduction to communication, interpersonal communication, public speaking or more specialized courses, such as small group communication or intercultural communication, the curriculum directly relates to all students' lives because all students participate in communication every moment of their lives. I tell students that they will be able to take lessons from each class and apply them to their lives immediately to see the benefits of their education in action.

Question

How do you think students describe your teaching methods and classes?

Answer

Students may be tempted to "complain" that I require them to practice public speaking and conversation skills on a weekly (or sometimes daily) basis. Eventually, students realize that activities that take them out of their comfort zone are designed to build communication skills in the most effective way possible. The word "crazy cat lady" might also be thrown around, but that's only because I will occasionally show funny animal (cat!) photos during class.

Question

What are some ways that you help students succeed when they need extra help?

Answer

To help all students, I return emails within 24 hours and provide timely feedback and grades on assignments. I am also usually available before and after class and encourage students to visit with me then (even though office hours are also available). When students are struggling, I often reach out to them to offer assistance because speech anxiety, a big reason for student challenges in my courses, can make it difficult for students to have the motivation to seek help on their own.

Question

How do you help your students get the most out of your class?

Answer

Because my courses are skills-based with a theoretical foundation, my courses are a combination of lecture, discussion and activity. I throw in a mix of fun and interesting pictures, videos, stories, examples and games/activities to keep students actively engaged in the class.
Fun Facts
Fun Fact #1

I own one of those furless cats (a sphynx cat) and a leopard hybrid cat (a bengal hybrid)!

Fun Fact #2

I enjoy heavy metal music.

Fun Fact #3

I studied theater at a theater school for twelve years.
Meet Our Students and Alumni
Student Carousel
Carousel Navigation
Carousel Slides
Meet Thanh Ngo

Thanh Ngo

MnTC

Associate in Arts

"My education will allow me to live a better life, and to set an example for my children."

Meet Elise Boyum

Elise Boyum

MnTC

Associate in Arts

"I loved each one of my instructors, regardless of the subject or class size. Their willingness to engage with students one-on-one, offer assistance, and promote success was extremely beneficial to me and contributed to my overall wonderful experience at Anoka-Ramsey. Overall, the personal connections that I made during my time at Anoka-Ramsey added greatly to my experience and education."

Meet Yelizaveta Babashova

Yelizaveta Babashova

MnTC

AA Communication Studies Emphasis

"One thing I want people to know about Anoka-Ramsey is that just because it's a community college, doesn't mean that you're getting any less of an education than you would at a big university. The professors are wonderful and classes are challenging. You really feel like you're getting an education that's worthwhile."
Carousel Pagination