Programs by Interest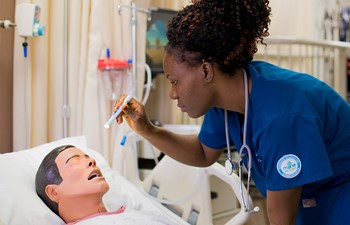 Sometimes it feels overwhelming to choose a path for your future.

Career Interest Areas offers one way to group educational choices. We base our Career Interest Areas on the Career Clusters developed by the U.S. Department of Education and used by schools and workforce centers around the state and country.
This page requires the enabling of Javascript to be functional.
Find a Program By Interest in 2 Steps
Step 1,

Select your area of interest

Featured Area of Interest

Anoka-Ramsey Community College offers a two-year associate of arts degree program that fulfills the Minnesota Transfer Curriculum (MnTC). Both AA and the MnTC provide a solid foundation for a four-year degree program.

Many students choose to complete an associate of arts degree so they can:

Take advantage of transfer agreements,
Concentrate in their preferred field of study, and
Complete more credits toward a four-year degree at the affordable Anoka-Ramsey cost.

You Chose:

Associate of Arts degree

Anoka-Ramsey Community College offers a two-year associate of arts degree program that fulfills the Minnesota Transfer Curriculum (MnTC). Both AA and the MnTC provide a solid foundation for a four-year degree program.

Many students choose to complete an associate of arts degree so they can:

Take advantage of transfer agreements,
Concentrate in their preferred field of study, and
Complete more credits toward a four-year degree at the affordable Anoka-Ramsey cost.

You Chose:

Allied Health & Nursing

Anoka-Ramsey Community College offers a number of programs in Allied Health & Nursing. Anoka-Ramsey associate in science degrees transfer in part or in entirety to all Minnesota State Colleges and Universities (MnSCU). Anoka-Ramsey also has specific direct transfer agreements with Metropolitan State University, the American Academy of Acupuncture and Oriental Medicine, Bemidji State University and St. Cloud State University for specific programs. The Allied Health & Nursing programs give you options in both study emphasis and timing to meet their unique academic and career needs. Graduates are not only in-demand; they work in a variety of disciplines.

You Chose:

Arts & Communication

Anoka-Ramsey Community College offers associate in arts and fine arts degree programs that transfer in part or in entirety to all Minnesota State Colleges and Universities (MnSCU), the University of Minnesota and public and private institutions. Anoka-Ramsey also has specific transfer agreements with Augsburg College, Hamline University, McNally Smith College of Music, Minnesota State University–Mankato, Minnesota State University-Moorhead, St. Cloud State University and Winona State University. Many students transfer to the University of Minnesota.

You Chose:

Biomedical Technology (BMED)

Anoka-Ramsey Community College offers associate in science degrees that transfer in part, or in entirety, to all Minnesota State Colleges and Universities (MnSCU), private schools and the University of Minnesota. Credits are stackable. Which means you can take additional classes and earn more certificates to enrich your career and earning potential. Anoka Technical College offers a two-year associate in applied science (AAS) degree in Electronic Engineering Technology with a Biomedical emphasis for students who want to enter the biomedical equipment technician field.

You Chose:

Business, Management & Administration

Anoka-Ramsey Community College Business programs offer a range of credit certificates that stand alone or transfer in entirety or in part into one of our two-year associate in science degrees. There is also the opportunity to earn certificates while working toward a degree. Anoka-Ramsey associate in science degrees transfer to all Minnesota State Colleges and Universities (MnSCU), the University of Minnesota and countless other colleges and universities. Often in business-related employment, the more education you have, the more responsibilities you have and the more money you are likely to earn. You may, however, want to start with a certificate program as you work toward a degree.

You Chose:

Engineering, Manufacturing & Technology

Anoka-Ramsey Community College offers a two-year associate degree in Engineering that transfers into four-year degree programs. Anoka-Ramsey associate in science degrees transfer in part or in entirety to all Minnesota State Colleges and Universities (MnSCU). Many students transfer to the University of Minnesota as well as public and private institutions throughout Minnesota and the U.S.

You Chose:

Human Services

Anoka-Ramsey Community College offers Human Services-related degrees that transfer in entirety into four-year state institutions. Anoka-Ramsey also has specific transfer agreements with Augsburg College, Hamline University, McNally Smith College of Music, Minnesota State University–Mankato, Minnesota State University-Moorhead, St. Cloud State University and Winona State University. Many students transfer to the University of Minnesota.

You Chose:

Information Systems

Anoka-Ramsey Community College offers four certificates that stand alone or transfer in whole or in part into computer-related, two-year associate degrees. Anoka-Ramsey associate in science degrees transfer in part or in entirety to all Minnesota State Colleges and Universities (MnSCU). Anoka-Ramsey also has computer-specific transfer agreements with the College of Continuing Education at the University of Minnesota and Minnesota State University-Moorhead. Computer programs provide options in both study emphasis and timing to meet your unique academic and career needs.

You Chose:

Natural Sciences

Anoka-Ramsey Community College offers two-year associate in science degree programs in Biological Sciences and Environmental Science. Anoka-Ramsey associate in science degrees transfer in part or in entirety to all Minnesota State Colleges and Universities (MnSCU). Anoka-Ramsey also has specific transfer agreements with Bemidji State University, St. Cloud State University, Minnesota State University-Moorhead and Minnesota State University-Mankato. Many students transfer to the University of Minnesota.

Step 2,

Learn More About a Program

Select Degrees or Certificates

Degree or Certificate Carousel

Carousel Navigation

Carousel Pagination
Meet Our Students and Alumni
Student Carousel
Carousel Navigation
Carousel Slides
Meet Tina Klaysmat

Tina Klaysmat

Allied Health & Nursing

AS Exercise Science

"I chose ARCC because it is close to home, affordable, and they have a lot to offer in terms of classes and Transfer Pathways."

Meet Logan Douglas

Logan Douglas

Arts & Communication

AFA Theatre

"I think the best aspect of Anoka-Ramsey is the people. Everyone here, staff and students alike, feels super down to earth, and I'm never too scared or nervous to engage in conversation with them… We all help each other with our problems and I think that's one of my biggest reasons I'm glad I came here."

Meet Madison Rowe

Madison Rowe

Information Systems

AS Computer Science

"I was nervous about my decision to come to Anoka-Ramsey because of the stigma of community colleges, but it was the right decision for me."
Carousel Pagination