Semper Fi: New Orleans Marine Corps musicians join rehearsal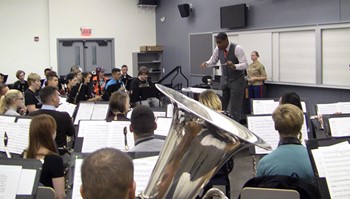 January 10, 2018
An article from the Winter 2018 Issue of the Anoka-Ramsey Community Newsletter

Instilling students with a sense of pride and patriotism, members of the U.S. Marine Corps Band conducted a clinic with Anoka-Ramsey Music students. Gunnery Sgt. Justin Hauser, Chief Warrant Officer Demarius Jackson and Gunnery Sgt. Nathan Davilmar rehearsed with the Concert Band and the Jazz Ensemble in October.
During their visit, they were reunited with one of their own, when Anoka-Ramsey student Sam Peck recognized Davilmar from his time in the service. Peck served in the U.S. Marine Corps from 2012 to 2016, attending the Naval School of Music in Virginia Beach, before he assumed his role as a Marine musician and achieved the rank of sergeant.
"When I was 23, I decided to enlist to get a sense of direction," said Peck, who was a percussionist in the 3rd Marine Aircraft Wing. "In the Marines, you operate at a certain level. In the course of a day, you have to train, stay in shape, rehearse and perform."
With the hope to one day teach music education, Peck enrolled at Anoka-Ramsey after completing his service. He was proud to see other students witness the discipline that Marine musicians bring to the rehearsal room.
"It gave a lot of students inspiration," said Peck. "I think it was beneficial for everybody."
Supplementary Information
Recent News

Anoka-Ramsey In The News

Contact Us

Marketing & Public Relations

Media Relations Contacts: Mary Jacobson & Fia Prpic