College instructor Paige Riehl is finalist for the 2017 Lindquist & Vennum Prize for Poetry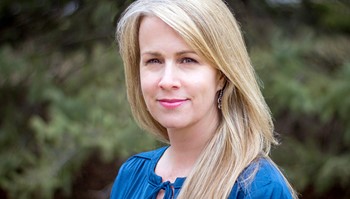 April 06, 2017
Paige Riehl, Anoka-Ramsey Community College English instructor, is one of six finalists for the 2017 Lindquist & Vennum Prize for Poetry.
This annual award, established in 2011, is co-sponsored by Milkweed Editions and the Lindquist & Vennum Foundation. The award seeks to support poets in Minnesota, Iowa, North Dakota, South Dakota and Wisconsin by bringing their work to a national stage.
Riehl's submission Wait was one of six chosen out of more than 200 submissions. Also chosen were pieces from Angela Voras-Hills, Patrick Johnson, Michael Torres, Caitlin Baily, and Soham Patel.
All six finalists will be recognized at Milkweed's second annual National Poetry Month Party on Thursday, April 13 at the Milkweed Editions office suite. This two-part event starts at 5:30 pm with a poetry-themed cocktail party and is followed by a reading from each of the finalists in the Target Performance Hall at 7 pm.
If you would like to attend the celebration, visi: https://squareup.com/store/milkweed-editions
The winner of the 2017 Lindquist & Vennum Prize for Poetry will be chosen by poet and judge Sikanth Reddy and announced on Wednesday, April 19. The award recipient will receive $10,000 and a contract for publication.
"I am thrilled to be one of the six finalists for the 2017 Lindquist & Vennum Prize for Poetry," said Riehl. "Milkweed Editions has published amazing books of poetry from this contest, such as the inaugural winner Patricia Kirkpatrick for Odessa and last year's winner Tula by Chris Santiago. I'm just so honored, and I'm looking forward to the National Poetry Month Party and Reading when all of the finalists will read from their manuscripts."
Riehl is the author of Blood Ties, a poetry chapbook published by Finishing Line Press (2014). Her poetry has appeared or is forthcoming in many publications such as Crab Orchard Review, Portland Review, Meridian, South Dakota Review and Nimrod International Journal. She won the 2012-2013 Loft Mentor Series in Poetry and the 2011 Literal Latte Prize for Poetry and was a 2016 Pushcart Prize nominee. In 2016, Billy Collins selected her to participate in his small Key West Literary Seminar poetry workshop. She is the Poetry Editor for Midway Journal and an English faculty member at Anoka-Ramsey Community College.
For more information about Paige Riehl and her work, visit http://paigeriehl.com
Supplementary Information
Recent News

Anoka-Ramsey In The News

Contact Us

Marketing & Public Relations

Media Relations Contacts: Mary Jacobson & Fia Prpic