Propel Scholarship Helps Local Students Succeed at the Anoka-Ramsey Community College's Cambridge Campus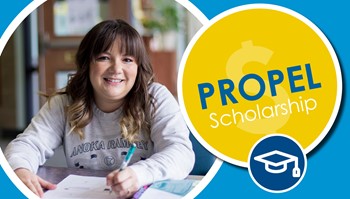 May 26, 2022
Beginning fall 2022, new students at the Anoka-Ramsey Community College Cambridge Campus will have the opportunity to apply for a new scholarship opportunity.
To help break down any financial barriers to college enrollment and completion and to connect students with existing success resources, Anoka-Ramsey is offering a new scholarship pilot program called Propel Scholarship.
After other grants and scholarships are applied to tuition, eligible students at the Cambridge Campus will receive funds to cover the cost of any remaining tuition and fees, and textbook expenses.
"It is more possible now than perhaps ever before to receive a world-class community college education free of charge. The creation of tuition-free pathways such as the Propel Scholarship combined with highly accessible federal and state financial aid programs ensures that all students, regardless of their background, will not be denied their pursuit of a post-secondary education," said Bill Vikander, director of financial aid operations at Anoka-Ramsey.
The Propel Scholarship is specifically designed to serve new high school graduates in the Cambridge area. Students might be eligible for the Propel Scholarship if: their families were eligible for the free or reduced-price lunch program in their senior year of high school, or if their families have an Adjusted Gross Income of $50,000 or less, they applied for financial aid by filling out the FAFSA, and they will graduate in 2022 from select local high schools including Braham, Cambridge-Isanti, Chisago Lakes, East Central, Hinckley-Finlayson, Isle, Milaca, Mora, North Branch, Ogilvie, Pine City, Princeton, or Rush City.
"We are so excited to be able to offer this opportunity locally," shared Shannon Kirkeide, dean of academic and community outreach. "Many graduating seniors and their families are concerned that the cost of attending college is beyond what they can afford. This scholarship bridges those funds for students, which means that many students will not have to pay any fees to complete their degree at the Anoka-Ramsey Cambridge Campus."
All scholarships will be awarded to eligible students on a first-come, first-serve basis. Applications for the fall semester 2022 are due by Aug. 1, 2022.
"The potential for academic and professional growth is just the beginning, education is how we change the world around us. If you are doubting the affordability of a college degree, the Financial Aid Office at Anoka-Ramsey is here to support you," said Vikander.
For more information or to apply for the Propel Scholarship, visit AnokaRamsey.edu/PropelScholarship. Students can also contact an advisor to learn more about the Propel Scholarship and other opportunities to support their success.
Supplementary Information
Recent News

Anoka-Ramsey In The News

Contact Us

Marketing & Public Relations

Media Relations Contacts: Mary Jacobson & Tiffany Clements