Enrollment increases at Anoka Technical College and Anoka-Ramsey Community College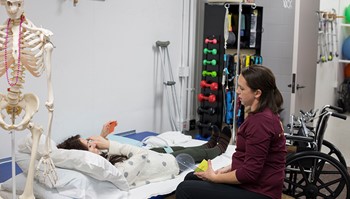 February 06, 2018
Anoka-Ramsey Community College and Anoka Technical College both saw an increase in enrollment from 2017 to 2018, in response to demand for high-quality, affordable college education in Minnesota.
The two colleges, which are accredited members of the Minnesota State system, succeeded in both attracting new students and retaining current students.
"Our Strategic Plan is guiding the work that is being done by faculty and staff to promote student success and build a culture of support at our colleges," said Anoka-Ramsey Community College and Anoka Technical College President Kent Hanson, Ph.D. "The roadmap that we developed through our Strategic Plan not only helps us get the word out about our excellent academic programs, but also keeps us on the path to continuous improvement."
At Anoka-Ramsey Community College, enrollment increased by 3.1 percent from spring 2017 to spring 2018, for an enrollment of 4,658 Full Time Equivalency (FTE) ―a standard used to measure student enrollment relative to the number of credit hours taken. At Anoka Technical College, enrollment increased by 3.9 percent FTE from spring 2017 to spring 2018, leading to an enrollment of 1,175 FTE.
The data accounts for both the number of new and returning students enrolled, and increasing course loads at the college, demonstrating that more students are enrolling full time or taking a higher number of classes. Both colleges are also showing increased enrollment for continuing students, with a 1.6 percent increase in retention at Anoka-Ramsey, and a 4 percent increase in retention at Anoka Tech. 
"Retention has been key," said Anoka Technical College Dean of Student Affairs Sean Johns. "We work hard to demonstrate the value of an education from Anoka Tech, and when people commit to becoming students here, we commit to them. "The broad effort has been to reduce barriers for students and create support opportunities to guide them towards completion."  
Both colleges share many factors behind the enrollment increases, including:
Innovative solutions to accommodate changing student needs and priorities;
A renewed commitment to student outreach and academic advising;
Community partnerships with schools and businesses, in support of education and the workforce;
Outstanding leadership by faculty, staff and administrators under the Strategic Plan;
And, above all, making a lasting personal connection with students.
One factor that led to the increase in student enrollment, according to Hanson, is the innovation occurring on the three college campuses operated by these aligned colleges. To meet the needs of the community, the colleges have implemented new methods for recruiting and retention. They have also added targeted recruitment techniques and streamlined communications plans, in order to guide students through every step of the process.
At Anoka-Ramsey, which was named a Top 10 College by the Aspen Institute, the new initiatives include student support under the Appreciative Advising Model and an innovative enrollment process which allows students to apply, attend orientation and register for classes in any set of three consecutive days between mid-April and August.
"The Appreciative Advising Model focuses on the advising relationships between the student and the advisor, and it takes a more holistic approach to advising. It takes into consideration what a student needs from the day they register to when they graduate," said Anoka-Ramsey's Director of Advising and Veterans Services Brian Wollum. "Up until this point, students have had a really prescriptive educational experience. This model gives us ways to shape their education while still focusing on their hopes and dreams."
 For the community college, the innovative methods are a collaborative effort on the part of many departments, especially Admissions and Academic Advising.
"Our Admissions Advisors make it a point to get to know our prospective student personally and to make them feel comfortable at Anoka-Ramsey Community College," said Anoka-Ramsey's Director of Admissions Ricardo Gonzalez. "Anoka-Ramsey is committed to our students' success. We value the importance of higher education, and we are proud to offer the value of a Top 10 College, with the lowest cost tuition of any two-year college in Minnesota." 
For both colleges, there is also a renewed focus on increasing student retention. Those numbers climbed from spring 2017 to 2018, as well.
"Retaining students is one of our highest initiatives within our Strategic Plan," said Gonzalez. "With high school graduation numbers decreasing, it is very important that we retain the students we do recruit. It is even more important that these students complete their two-year education with us as well."
In addition, Anoka-Ramsey joins Anoka Tech in implementing new diversity and inclusion initiatives, which help to create a welcoming culture for students of all walks of life.  
"Institutional enrollment levels are always a combination of several factors," said Johns. "What we've been able to do well at Anoka Tech is focus on what is in our control, given the external environment. Our broad effort has been to reduce barriers for students and create support opportunities to guide them towards completion."
For Anoka Tech Director of Enrollment LeAnna Wangerin, it's that supportive environment and those personal connections that keep students engaged.
"Our traditional student is a non-traditional student," said Wangerin. She said many technical students are also out in the workforce, trying to make a career change or raising a family. Some of them are recent immigrants who are looking to make a contribution to the local economy, and many of them are first-generation college students. "Sometimes, it just takes that one person to make a connection during those tough and scary times. Then the student is able to push forward and meet their goals."
Wollum said the innovation taking place for two-year colleges is starting to show results. At Anoka-Ramsey, the success draws upon many other initiatives as well, such as the First-Year Experience, advising appointments that allow ample time for answering student questions and other growth initiatives, such as undergraduate research.
"It's about getting students to take the ownership of their education. We want the student to be the driver, and the advisor to be the map reader who is sitting with them in the car," said Wollum. "We encourage students to maintain a growth mindset, and constantly challenge themselves."
Pictured above, students take classes in the Physical Therapy Assistant program at Anoka-Ramsey Community College, which has seen an increase in enrollment. Anoka Technical College, an aligned Minnesota State institution, has also seen an increase in enrollment.
Supplementary Information
Recent News

Anoka-Ramsey In The News

Contact Us

Marketing & Public Relations

Media Relations Contacts: Mary Jacobson & Fia Prpic