Anoka-Ramsey Community College to showcase student and faculty undergraduate research at virtual OSCARS event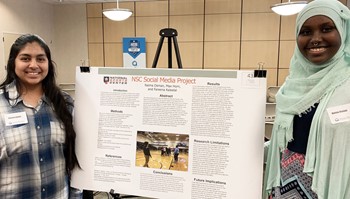 April 16, 2021
Anoka-Ramsey Community College will host the annual Student and Faculty Outstanding Scholars in Creative Activities and Research Symposium (OSCARS) virtually from April 28 – May 5.
The event is free and open to the public to attend virtually at symposium.foragerone.com/2021-arcc-oscars.
The OSCARS are intended to showcase the high-quality learning that students are engaged in through undergraduate research, project-based learning and independent, creative endeavors specific to their field. Students and faculty members from all departments are welcome to present in the form of an oral presentation, performance or poster. With the new virtual format, presentations will also be both live and asynchronous based on participant preference.
Last year's event was cancelled due to COVID, but in 2019 nearly 60 students from programs across the college participated. For the first time this year, the faculty and student OSCARS will be combined into one event. As a member of the Council of Undergraduate Research, Anoka-Ramsey subscribes to the idea that faculty members enhance their teaching and contribution to society by remaining active scholars in their fields, and students succeed in their studies and professional advancement through participation in undergraduate research and other scholarly activities specific to their field.
"By hosting the faculty and student events together, it gives our faculty an additional opportunity to  be a role models for students, share their work and reiterate that we're all in this together," says Kristen Genet, Biology instructor and OSCARS event founder. "We hope it empowers and motivates our students to be equally proud of their own work as well because they are doing some really amazing things."
Any student can register to participate in the OSCARS. Participants will present their work in their respective categories, STEM/Health and Exercise Sciences, Social Sciences/Humanities, and Creative Activities and Performances, and have opportunities to win prize drawings for participants in each of these categories.
For more information how to participate or attend the 2021 OSCARS and Anoka-Ramsey Community College's Undergraduate Research Initiative, visit AnokaRamsey.edu/academics/academic-initiatives/undergraduate-research/
Supplementary Information
Recent News

Anoka-Ramsey In The News

Contact Us

Marketing & Public Relations

Media Relations Contacts: Mary Jacobson & Fia Prpic