Anoka-Ramsey Community College Art Department members participate in Minneapolis Art-In-Bloom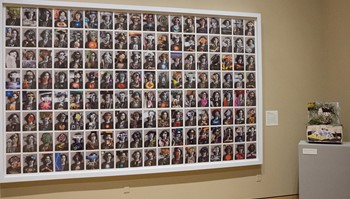 February 07, 2018
Once again, the annual Art-In-Bloom event, hosted by the Minneapolis Institute of Arts, will include several pieces from Anoka-Ramsey Community College staff and students. The event opens Wednesday, April 25 and runs through Sunday, April 29.
College lab assistants, Erick Wiger and Jessica Shimek; current student, Jack Harrison; and alumnus Amy Houle and Derek Prescott have been selected to participate.
Art in Bloom florists are volunteer floral enthusiasts from a range of backgrounds. Anyone, regardless of floral arranging experience, is welcome to participate. Florists attend one of two orientation events in late January to select the work of art they plan to interpret with fresh flowers. Anoka-Ramsey will be represented by:
Wiger's interpretation of "Paper Bowl" by Kay Skimachi
Shimek's interpretation of "Lying Dragon Plum Tree" by Funada Gyokuju
Harrison's interpretation of "Les Trois Graces" by Jean-Baptiste Carpeaux
Houle's interpretation of "Red Totem 1" by George Morrison
Prescott's interpretation of "Allegory of the Four Elements" by Cornelis Jacobsz Delff 
"Five years ago I decided to participate in the Art in Bloom (AIB) event because I thought it would be a kick to be able to have a piece of my work on display in the museum, if only for a few days" said Wiger. "The event itself was amazing. Never before had I had so many people see my work or be so excited to talk with me about it. Tens of thousands of people come to the Minneapolis Institute of Arts over the course of the weekend, and they are all curious to see how the art is interpreted."
Art-In-Bloom
Wednesday, April 25 – Sunday, April 29
Minneapolis Institute of Arts
2400 3rd Ave S
Minneapolis, MN 
For more information about Art-In-Bloom, visit AIBFlorists.wordpress.com/.
For more information about the Art Department at Anoka-Ramsey Community College, visit AnokaRamsey.edu/Academics/Departments-Faculty/Art/.
ABOUT ANOKA-RAMSEY COMMUNITY COLLEGE
Anoka-Ramsey Community College, with campuses in Cambridge and Coon Rapids, is a member of the Minnesota State system and has been a leading provider of higher education and training in East Central Minnesota since 1978 and the north suburban area of Minneapolis/St. Paul since 1965. Anoka-Ramsey Community College was recognized as one of the Top 10 community colleges in the U.S. for 2017 by The Aspen Institute. Annually, the college serves more than 12,500 learners of all ages as they pursue associate degrees that transfer as the first two years of a bachelor's degree, or certificate programs that lead immediately to rewarding careers. Anoka-Ramsey Community College is aligned with Anoka Technical College and together the institutions serve more than 16,000 learners–the largest community and technical college entity in Minnesota. An affirmative action, equal opportunity employer and educator. Accredited by the Higher Learning Commission. This document is available in alternative formats to individuals with disabilities by calling the Minnesota Relay Service at 1-800-627-3529.
Supplementary Information
Recent News

Anoka-Ramsey In The News

Contact Us

Marketing & Public Relations

Media Relations Contacts: Mary Jacobson & Fia Prpic